Astros close road trip with tough loss to Rangers
Astros close road trip with tough loss to Rangers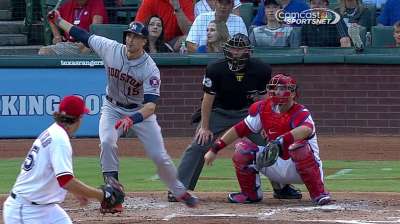 ARLINGTON -- After consecutive series victories against the A's and Angels, the Astros needed to take one out of three at Rangers Ballpark to secure a winning road trip.
But Houston continued its struggles against its in-state rival and dropped all three, the last a sixth walk-off loss this season, 5-4, to the first-place Rangers.
The series concluded with Chia-Jen Lo receiving his first Major League loss in his eighth career appearance. Lo loaded the bases with one out and allowed the game-winning run on a sacrifice fly to left-center field from Elvis Andrus, who flipped his bat after the 1-1 pitch.
The Astros had a five-man infield on the play, with left fielder Robbie Grossman protecting the right side against the right-handed hitter. It was the first run Lo allowed in his career. He had pitched 7 1/3 scoreless innings.
"As soon as I saw it, I thought, 'I'm not going to swing at anything down,'" Andrus said. "He was the one under pressure to make the pitch. I was trying to hit a fly ball. It was a little easier today because I had hit two fly balls already. So I wanted to stay below the ball and put a good swing on it."
The Astros have lost a franchise-most eight straight games to the Rangers, and 14 of 15 since beating Texas on Opening Day.
Houston took advantage of Tanner Scheppers' command issues with two outs in the eighth to tie the game at 4. Chris Carter hit a bloop single to score Jose Altuve, who advanced from first to third on two wild pitches.
Matt Dominguez and Max Stassi were hit on the first pitch of their at-bats to tie the game. Stassi recorded his first career RBI, but he left the game, as he was hit in the face by a 96-mph fastball.
"The resilience of that group in there, I'm extremely proud of them," Astros manager Bo Porter said. "They fight all the way till the end. We come up short sometimes, but at the same time, I would never question the resilience they had today."
The Astros allowed two unearned runs on two errors, giving them four errors in the series. Grossman's fielding error in the third on Adrian Beltre's single allowed Ian Kinsler to score from first as Texas took a 2-1 lead. Shortstop Marwin Gonzalez had a throwing error that allowed Craig Gentry to reach second safely to leadoff the seventh. Gentry scored on consecutive bunts, the last a suicide squeeze from Andrus to give the Rangers a 4-2 lead.
"It hurt us today," Porter said of the errors. "Our infield defense, we had the guys out there that are normally sure-handed, and it costs us a couple of unearned runs. It had a huge impact on the game."
Erik Bedard was knocked out of the game after 4 1/3 innings, the second shortest of his 19 career starts against the Rangers. The lefty allowed three runs (two earned) on five hits, including a solo shot to Gentry in the third that tied the game at 1.
He issued four walks, including consecutive free passes to Gentry and Martin to start the fifth. Gentry scored on Ian Kinsler's base hit two batters later, ending Bedard's night. He has lost seven of his last nine starts and hasn't won since June 26 against the Cardinals.
"They fouled a lot of balls off and got my pitch count up," Bedard said. "That's what you want to do as a team."
David Martinez made his Major League debut relieving Bedard in the fifth. He gave up an unearned run in 2 2/3 innings pitched. He forced Beltre, the American League Player of the Month for July, to ground into an inning-ending double play in his first at-bat to end the fifth.
"Wow, he's powerful, but I feel good," Martinez said. I concentrated on the catcher and got a ground ball."
The right-hander kept that ball and the one he used to strike out Jeff Baker in the sixth for his first big league punchout.
"I'm happy and excited about the game," Martinez said. "Wow. I feel comfortable. I was little wide with my fastball after the first inning, but after that I threw pitches for strikes."
Master Tesfatsion is an associate reporter for MLB.com. This story was not subject to the approval of Major League Baseball or its clubs.