Chapman continues dominant stretch
Chapman continues dominant stretch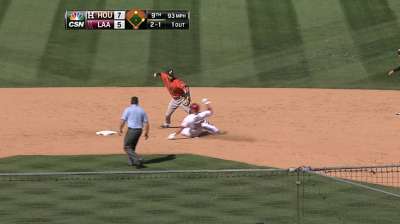 ARLINGTON -- Kevin Chapman turned in his eighth straight appearance without allowing an earned run to start his career, besting by one outing the streak turned in by fellow Astros rookie Chia-Jen Lo this season. Prior to this year, the Astros hadn't had a rookie start his career with seven or more outings without allowing an earned run since Mike Gallo in 2003.
"I love the fact that he's been attacking the strike zone," Astros manager Bo Porter said. "From the day we've called him up, he's done a good job attacking the strike zone to hitters."
The left-hander needed just 14 pitches to get through 1 1/3 innings against the Rangers in relief of Jarred Cosart, retiring three of the four batters he faced with a total of six pitches. Cosart forced Mitch Moreland to fly out to left on the first pitch of his appearance.
"Some of the coaches were giving me a hard time for just throwing one pitch, but that's what it's all about," Chapman said. "You just try to be efficient so you can come out the next day and help get another few more outs in a key situation and help the team win."
The only runs Chapman has allowed were two unearned runs against the Rangers on Aug. 10 in his second big league outing. They came on the only hit he allowed in that appearance, a home run to Elvis Andrus.
"You can't let that effect you, it's going to happen," Chapman said. "You just got to learn from it, watch video, see what the pitch was and don't do that one again. Learn from it, get it out of your memory and just keep pitching to your strengths."
Master Tesfatsion is an associate reporter for MLB.com. This story was not subject to the approval of Major League Baseball or its clubs.