Maxwell learning all about Kauffman's quirks
Maxwell learning all about Kauffman's quirks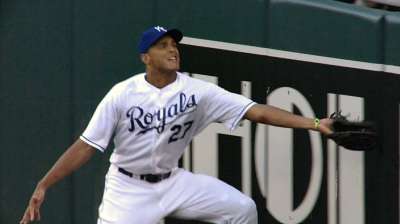 KANSAS CITY -- Outfielder Justin Maxwell has been with the Royals since July 31, but he's still getting used to the quirks of the Kauffman Stadium outfield through extra work with first-base and outfield coach Rusty Kuntz.
"There's a lot of room, so you don't have to worry about the wall or anything," Maxwell said. "The only thing in right field is that the ball kind of rides the wall if there's a ball down the line, but I'm out there early with Rusty every day trying to figure it out."
Kuntz has helped him on the road too when Maxwell visits a new stadium like he did in Detroit at the Tigers' spacious Comerica Park.
"I'd never played there, so he brought me out there early and we got to work down the line and sure enough, in the game, a ball just like we'd practiced happened so I was prepared," Maxwell said. "He definitely knows what he's doing and I'm thankful for all the knowledge that I'm getting."
Going into Wednesday night's game against the White Sox, Maxwell was batting .389 through 15 games with the Royals with three doubles, one triple, three home runs and seven RBIs. He's made the majority of his starts in right field.
Dick Kaegel is a reporter for MLB.com. Kathleen Gier is an associate reporter for MLB.com. This story was not subject to the approval of Major League Baseball or its clubs.