Call goes against Mets, leads to two ejections
Call goes against Mets, leads to two ejections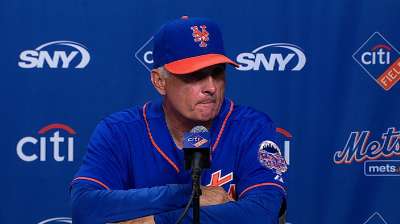 NEW YORK -- Daniel Murphy estimated that the moment Chris Johnson's game-winning homer left his bat in the 10th inning Wednesday, Murphy began expressing his "difference of opinion" with first-base umpire Jerry Layne. Moments earlier, Layne had given the Braves late life on a close play at first that could have ended the inning.
"He gave me about 90 feet," Murphy said of Layne, referencing the ball's flight to the left-field stands.
Murphy's first ejection of the season brought Terry Collins out of the dugout, earning the Mets manager his third early exit.
The argument for both men stemmed from Freddie Freeman's infield single with two outs in the 10th; Layne called Freeman safe at first, while replays appeared to show the ball settling in first baseman Josh Satin's glove before Freeman's foot hit the bag.
Had the call been reversed, the Mets would have gone to the bottom of the 10th in a 1-1 tie. Instead, Johnson homered on the next pitch and they lost, 4-1.
"Jerry just said he thought he got it right," Collins said. "I didn't have very much to say that was very nice."
Anthony DiComo is a reporter for MLB.com. Follow him on Twitter @AnthonyDicomo. This story was not subject to the approval of Major League Baseball or its clubs.