Masterson provides quality innings for road sweep
Masterson provides quality innings for road sweep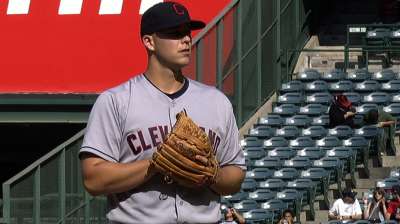 ANAHEIM -- The Indians needed a strong effort from Justin Masterson on Wednesday. The big right-hander is not one to turn down a challenge, embracing both responsibility and leadership as he tries to earn the title of ace to go along with workhorse.
At Angel Stadium, Masterson battled command, but found a way to deliver for his team.
"He expects it out of himself," Indians manager Terry Francona said. "I think he knows we expect it, and I think he enjoys answering."
Masterson pitched into the seventh inning, keeping Los Angeles' lineup at bay and guiding the way for the Indians to collect a 3-1 victory and a sweep of this three-game series. The win gave Cleveland six on its road trip, surpassing the five wins that the club had in all of August last year.
These new-look Indians have also achieved 69 wins with more than a month left on the schedule. Last season, Cleveland ended the year with 68 victories and headed into the offseason uncertain of its direction.
"I imagined that was going to come," Masterson said of achieving more wins than in 2012. "We're just working. We've got a really good team. We've got something special going on here. That's the way it's been since Spring Training."
It has been a whirlwind of a turnaround for the Tribe, who remain within striking distance in both the American League Central and AL Wild Card race. The Indians are 5 1/2 games behind the division-leading Tigers and sit 2 1/2 games behind the A's for the second Wild Card spot.
Masterson has played a key role in Cleveland's comeback.
His win over the Angels marked the 12th time this season that the starter has allowed one or zero runs. Masterson is the first Indians pitcher to have at least that many games of that nature since Cliff Lee turned in 13 in 2008. The last Cleveland right-hander to accomplish the feat was Gaylord Perry (14) in 1974.
Masterson is now 14-9 with a 3.50 ERA in 182 1/3 innings, during which he has piled up 182 strikeouts.
"He's already elite," Indians first baseman Nick Swisher said. "He's an All-Star for us, man. His numbers speak for themselves. Top 10 in strikeouts, innings pitched, ERA. This dude's doing it, man. I'm so happy I don't have to face him any more. I'm happy he's on our side now."
It was not much, but the Indians took care of Masterson's run support in the third inning.
Michael Bourn ignited Cleveland's push by pulling a pitch from Angels starter Jerome Williams into right field for a leadoff triple. That set the table for Swisher, who yanked a 2-2 offering from Williams to right for a two-run home run. The blast gave the Tribe a 2-0 advantage and gave Swisher a tie for the team lead with 15 homers.
"I'm just trying to get the ball up in the air," Swisher said. "He tried to paint a fastball in and I was just lucky to get the head on it."
That proved to be sufficient for Masterson, who provided the Indians with the kind of performance the club craved in the wake of Tuesday's 14-inning victory. In that game, the Tribe cycled through nine pitchers, including all eight of the the team's relievers, making it important for Masterson to eat up innings in the final game of the 10-day road swing.
"Today's an easy day to show up and [look tired], but we grinded," Francona said. "Everybody was tired, probably on both teams. But we grinded through it and we played really clean. Because of that, we won. We need to get wins like this."
Masterson surrendered just two hits through his first five innings before encountering his first major trouble in the sixth. Josh Hamilton led off wth a single and scored on a double to right field from Hank Conger, cutting Cleveland's lead to one run. Masterson set down the next two hitters to escape further harm.
The Angels tried to rally again in the seventh, but they were turned away by the Tribe's arms.
Masterson issued a leadoff walk to Andrew Romine and then allowed a bunt single to Peter Bourjos. Both runners then moved up 90 feet thanks to a sacrifice bunt from J.B. Shuck. Masterson recovered by striking out Erick Aybar, and then bowed out of the ballgame after working through 110 pitches (59 strikes) in 6 2/3 innings.
"It wasn't easy," Francona said. "He kind of bobbed and weaved through their lineup."
The Major League leader in groundball outs (228), Masterson ended the evening with seven outs on the ground, seven strikeouts and five walks.
"I got a lot of ground balls. Had good movement early," Masterson said. "We made some good defensive plays behind me. Our bullpen worked really hard [Tuesday] and they came in and still did a good job. I was trying to get a few more outs, but they came in an did a nice job at the end."
Francona put the game in the hands of lefty Rich Hill, who entered to face Hamilton with two runners in scoring position and the Indians clinging to their one-run lead. On a 1-2 count, Hamilton chopped a pitch to third baseman Lonnie Chisenhall, who made a quick diving grab and throw for the inning-ending out.
Cleveland tacked on an insurance run in the ninth inning and closer Chris Perez used it to his advantage, sealing the win and picking up his 20th save.
"We wanted to come out and we wanted to get this game," Swisher said. "Obviously, last night, after that 14-inning marathon, that's something you can rally around. I feel that weve got guys that want to do that. We've got guys in here that want to be in the playoffs."
Masterson knew it was up to him to set the tone.
"It feels nice to be disappointed that I only went 6 2/3," Masterson said. "The goal, good or bad, is to get as deep as I can. [This was] one of the days where you need it, and that's the goal already. It worked out well."
Jordan Bastian is a reporter for MLB.com. Read his blog, Major League Bastian, and follow him on Twitter @MLBastian. This story was not subject to the approval of Major League Baseball or its clubs.