Sloppy Giants battered by Red Sox offense
Sloppy Giants battered by Red Sox offense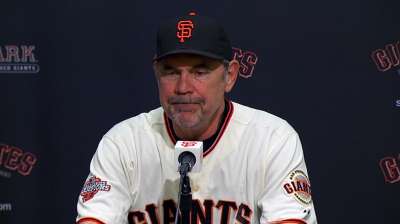 SAN FRANCISCO -- Manager Bruce Bochy referred to the real estate in short right field as the "Bermuda Triangle." Privately, he and other Giants probably call it something much uglier.
The Giants committed a fourth-inning defensive misplay in this area during Wednesday's 12-1 Interleague loss to the Boston Red Sox. Given the lopsided score, the Giants' latest lapse in shallow right didn't make the difference as they matched their largest margin of defeat this year.
But the Giants' disturbing knack for repeating mistakes in this area has provided a symbol of their fall from postseason grace. Their ill-fated forays into shallow right began with their May 14-15 series at Toronto, where second baseman Marco Scutaro unsuccessfully battled popups. Such goofs last year were rare. Now, they proliferate.
This shouldn't be expected from a defending World Series champion that brought back 22 of 25 members of last year's postseason roster. Then again, said Giants left-hander Barry Zito, "The nature of the game is so unpredictable. That's why we all love it. That's why we all hate it. You never know what you get when you come to the yard. That is why it's such a great spectator sport."
Added Zito, "We're not happy at all with the way we played."
San Francisco already trailed, 5-1, in the fourth inning when they stumbled into the Bermuda Triangle again. With two outs and Will Middlebrooks on second base, Shane Victorino lifted a fly ball to shallow right field that fell untouched among Scutaro, first baseman Brandon Belt and right fielder Hunter Pence. Victorino received an RBI double on the play.
"Belt looked like he was under it," Bochy said. "His hands were up like he thought he had it. I think that's why Scutaro and Pence might have backed off a little bit. Then they realized he wasn't camped under it."
Even if Belt's signal conveyed the wrong message, the trio of Giants neglected to communicate verbally. Calling for fly balls is a baseball fundamental.
"That was kind of a freak play," Belt said. "We've worked on that in the past. We've worked on it in Spring Training. On popups, you have to communicate. We didn't do it that time. ... Nobody said anything."
Interestingly, Bochy mused with reporters before the game about how a jigsaw puzzle of personnel might fit with Belt playing left field and catcher Buster Posey moving to third base. Bochy emphasized that he didn't want to start rumors.
"There's nothing on the horizon right now worth talking about," he said regarding position switches. "That doesn't mean it couldn't happen."
First, the Giants must master the positions they currently occupy.
When Zito fielded Victorino's third-inning bunt, Belt stepped on the dirt, not on the bag, as he took the pitcher's throw. Boston ultimately scored three runs. In the eighth inning, rookie left-hander Mike Kickham spoiled a potential inning-ending double play by throwing past second base. That ended the scoring but didn't stop the Giants' self-examination.
Bochy echoed his concern about lack of concentration.
"Sometimes I do think we do drift mentally a little bit. That shouldn't happen," he said.
Bochy added that his club continues to deliver consistent effort, a remark Zito seconded.
"No one's throwing in the towel," said the left-hander, who surrendered six runs in 3 2/3 innings in his return to the starting rotation as injured Chad Gaudin's replacement.
Zito (4-9) insisted that he and his teammates have not shirked the responsibility of preparing diligently.
"Not at all," he said. "I obviously can't speak for every guy, but from what I see in the clubhouse, I don't see any of that. Guys are on their routine. ... We all bring our best to the field every day, even in tough times. If anything, guys are working harder behind closed doors."
Whether Zito will spend the next few days working hard to start Monday at Colorado was uncertain. Bochy would not commit to leaving him in the rotation.
"I don't want to go into our choices, or what we may do, right now," Bochy said.
The Giants, who mustered five hits in eight innings off Red Sox left-hander Felix Doubront (9-6), avoided a shutout thanks to Joaquin Arias' second-inning home run. That was the first AT&T Park homer hit by a Giant other than Belt or Posey since Pence went deep against Miami on June 23.
Chris Haft is a reporter for MLB.com. This story was not subject to the approval of Major League Baseball or its clubs.