Cueto forgoes MRI, begins light throwing
Cueto forgoes MRI, begins light throwing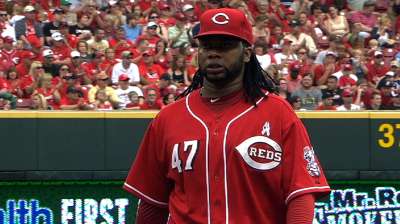 CINCINNATI -- When he woke up on Wednesday morning, injured Reds ace Johnny Cueto did not know this would be the day he could finally, at long last, begin a throwing program.
Cueto, who has not thrown since straining his right lat muscle for the third time this season during a June 28 start at Texas, was first expected to get an MRI test on Friday before being cleared to pick up a baseball. But after some second thoughts and a meeting between the medical staff and front office, the green light was given.
By Wednesday afternoon, Cueto played catch on the field and made 40 throws from distances of 60-75 feet.
"I feel good," Cueto said. "I didn't feel bad [before]. I didn't feel nothing. I wanted to throw. They said OK."
Cueto could not contain his smile after returning from the throwing session.
"I'm happy now," Cueto said.
Cueto had been asking to throw for a little while, but because he had repeatedly suffered the same injury, the rehab and strengthening process has been even more deliberate. Head trainer Paul Lessard, medical director Tim Kremchek and general manager Walt Jocketty met on Tuesday night and Wednesday and reassessed.
"Because he has gotten good strength, why not try and start throwing?" Lessard said. "We can use the throwing program as a strengthening tool as well.
"It went very well. The intensity wasn't great. But it was the first day of throwing so he could go through that motion again. … You get bored doing all the exercises and the rest and start champing at the bit. At least now he can see the light at the end of the tunnel instead of driving through the tunnel."
What makes this time on the disabled list different than the previous two with the same injury? Cueto admitted this time he felt fully healed as opposed to the previous times.
"I learned I have to take my time when these things happen," said Cueto, via translator Tomas Vera. "This last two opportunities when I went to the DL, I said I was feeling good and I was. But I was not 100 percent like I am feeling right now. What I learned from this is you have to take your time. You have to do things the way it's supposed to be done in order to get better."
Cueto will throw again on Thursday and continue forward, as long as there are no setbacks.
"We'll go on his symptoms on a daily basis," Lessard said. "Obviously if it bothers him, we will stop. As long as it feels good on a daily basis, we'll keep increasing the distance and the reps and intensity of it."
One thing that's lacking for Cueto is time. There are only 35 games remaining after Wednesday and the Minor League seasons end in early September, possibly leaving Cueto without a place to go on a rehab assignment when the time comes.
"Right now, we're just glad Johnny is throwing again," Reds manager Dusty Baker said. "We'll get to that when we get to it."
If Cueto can't get stretched out in time to start, would he be willing to work as a reliever down the stretch to help the team?
"I don't know. Maybe," Cueto said in English.
Mark Sheldon is a reporter for MLB.com. Read his blog, Mark My Word, and follow him on Twitter @m_sheldon. Jeremy Warnemuende is an associate reporter for MLB.com. This story was not subject to the approval of Major League Baseball or its clubs.