Correia solid, but Twins falter late vs. Tigers
Correia solid, but Twins falter late vs. Tigers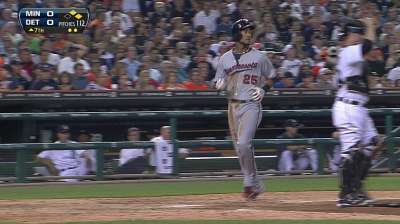 DETROIT -- The Twins were just one pitch away from handing it over to their two best relievers with a one-run lead against the first-place Tigers in their quest to play the role of spoiler for a second straight night.
But it wasn't to be. Kevin Correia was solid, but saw it unravel with two outs in the seventh inning to hand the Twins a 7-1 loss to the Tigers on Wednesday night at Comerica Park.
With the Twins leading 1-0, Correia had Detroit's No. 9 hitter, Bryan Holaday, down 0-2 in the count, but gave up a two-out single before giving up another single to Austin Jackson to bring Torii Hunter to the plate.
Correia quickly got ahead 0-2, but gave up a two-run double on a 2-2 fastball that Hunter drove to right-center field past right fielder Chris Herrmann. It only got worse from there, as the Tigers added two more runs that inning and three more on the eighth on a bases-clearing double by Miguel Cabrera to turn the game from a nail-biter into a blowout.
"We were just one pitch away from it being [Jared] Burton and [Glen] Perkins out there," Twins manager Ron Gardenhire lamented. "But it just didn't happen."
Correia credited Hunter with a solid approach at the plate, as the veteran and former Twins outfielder went with the outside fastball and drove it to the opposite field.
"It was the right location, but probably the wrong pitch," Correia said. "We knew he was probably trying to shoot the ball the other way there and he hit a pretty good pitch hard into the gap to get those two runs in. He's a tough hitter. I never had a chance to face him in his prime, and I'm glad, because it doesn't seem like he's lost much."
After Hunter's double, the Twins opted to intentionally walk Cabrera and brought in left-hander Caleb Thielbar to face Prince Fielder. Thielbar struck out Fielder on a fastball up and in, but the pitch went to the backstop to allow Fielder to reach first and Hunter to score from second, as no one covered home plate on the play.
It was a heads-up play by Hunter, with Thielbar putting the blame on himself for not covering home plate. Victor Martinez followed by lacing an RBI double to give the Tigers a 4-1 lead.
"It's inexcusable and won't happen again," Thielbar said. "I've watched that guy since I was young. He used to do that stuff all the time. He's a smart baserunner and he took advantage of it."
"That's the only way I know how to play," said Hunter. "I was always told by Kirby Puckett, 'Be a hyena.' Always take advantage of the weak link. I saw the pitcher sitting there looking at the play, home plate was wide open and I just took a dive."
The Tigers put the game out of reach in the eighth after Brian Dozier was charged with an error on a hard-hit ball by Hunter that loaded the bases for Cabrera. And Cabrera, facing Michael Tonkin making his second big league appearance, laced a three-run double to give him 123 RBIs on the year.
"You miss your plays and there's another big inning for them," Gardenhire said. "It pretty much took us out of it."
Detroit's offensive outburst came after the Twins took the lead in the top of the seventh against Tigers right-hander Anibal Sanchez. Pedro Florimon started it with a two-out walk before stealing second base and scoring on a single to center field by Dozier.
Dozier's single chased Sanchez from the game, as the Tigers brought in left-hander Drew Smyly to face Herrmann. Dozier stole second but was stranded there, as Herrmann flied out to left to end the inning.
"I didn't have anything special today," said Sanchez, who gave up one run on six hits over 6 2/3 innings but was stuck with a no-decision. "It was more my command. I think every pitch was working today."
It was just another failed scoring opportunity for the Twins, who went just 1-for-6 with runners in scoring position. It's been a consistent theme for the club this month, as it's hitting .168 (31-for-185) with runners in scoring position in August.
"They came up with the big hits when we didn't," Correia said. "And that's obviously the game right there."
Rhett Bollinger is a reporter for MLB.com. Read his blog, Bollinger Beat, and follow him on Twitter @RhettBollinger. This story was not subject to the approval of Major League Baseball or its clubs.