Kennedy looks to thrive in pitcher-friendly Petco
Kennedy looks to thrive in pitcher-friendly Petco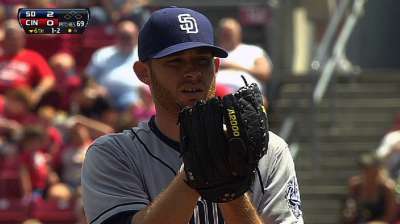 SAN DIEGO -- All that talk of Ian Kennedy as a "fly-ball pitcher" is no myth. With 156 ground balls induced and 150 fly balls heading into his start Wednesday, his ratio is almost 1:1.
Compare that to the rest of the Padres pitching staff -- Eric Stults, 216:184; Tyson Ross, 123:61; Andrew Cashner, 218:116; Edinson Volquez 216:116 -- and it's clear that Kennedy is more prone to fly balls than most other starters.
San Diego manager Bud Black has said that he believes Kennedy's transition from Arizona -- where fly balls carry -- to Petco Park -- where fly balls go to die -- will be beneficial. But he also thinks of Kennedy as more than just a fly-ball pitcher.
"This ballpark can -- and San Francisco, L.A. -- favor a guy that might be a fly-ball pitcher," Black said. "But again, I think Ian's capable of a lot of things. He's capable of the strikeout. He's capable of inducing the ground ball when he needs it."
Kennedy's results with San Diego have been a mixed bag thus far. Black talked at length about Kennedy on Wednesday and what he hopes he brings to the Padres' rotation in the future.
"With Ian, where he is in his career, he gives us a pretty solid Major League starter, who we think is going to be durable, who is going to bounce back from not having the year that everyone expected this year," Black said. "We think he's going to bounce back and be a guy who is capable of 33 starts and 200 innings and getting quality work."
AJ Cassavell is a reporter for MLB.com. Follow him on Twitter @ajcassavell. This story was not subject to the approval of Major League Baseball or its clubs.