Hundley pleased to get best of friend Melancon
Hundley pleased to get best of friend Melancon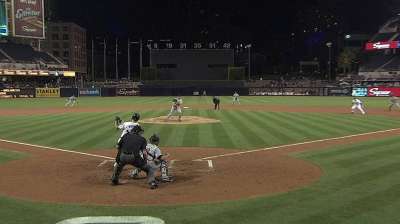 SAN DIEGO -- Padres catcher Nick Hundley has a 1.000 career batting average in two at-bats against Pirates closer Mark Melancon.
He's got something arguably more important than that, too: bragging rights.
Hundley and Melancon are close friends dating back to their time at Arizona when they advanced to the College World Series together in 2004. They were in each other's weddings and Hundley accompanied Melancon to New Zealand on the trip that garnered Melancon the nickname "Mark the shark."
"I've always loved him as a guy, I've always loved him as a competitor, I'd want him on my team any day," Hundley said. "It's just fun to face him because it's a challenge. When you face one of the best in the game, who is also one of your good friends -- it's special."
"One of the best in the game" is exactly what Melancon has become this season. He moved into the role of closer when Jason Grilli hit the disabled list with a strained muscle in his right forearm. Melancon has a 0.93 ERA and a 0.82 WHIP.
"This is not an aberration for him," Hundley said. "You don't luck out into a point-nine ERA. Obviously it's tough to duplicate that kind of year, but I know the kind of stuff he has."
AJ Cassavell is a reporter for MLB.com. Follow him on Twitter @ajcassavell. This story was not subject to the approval of Major League Baseball or its clubs.