Kennedy dominates Bucs to take finale
Kennedy dominates Bucs to take finale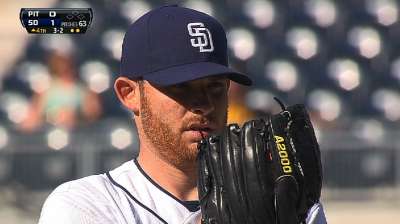 SAN DIEGO -- This was the Ian Kennedy the Padres traded for -- the Ian Kennedy of old, who won 21 games in 2011.
The Padres can only hope that Wednesday offered a glimpse into the 28-year-old right-hander's future as well.
Dominant outings like the one Kennedy turned in against the National League Central-leading Pirates will go a long way toward solidifying the long-term stability of San Diego's starting rotation. Kennedy threw seven shutout innings of four-hit ball, as the Padres avoided a sweep with a 2-1 victory at Petco Park.
"We feel as though Ian brings stability and a presence to our rotation that we need," Padres manager Bud Black said. "In two of the four games he's pitched, he has pitched outstanding."
The former D-backs right-hander had struggled with Arizona before coming over to San Diego in a Deadline-day deal. But the Padres banked on pitcher-friendly Petco Park helping an established fly-ball pitcher like Kennedy.
But he worked down in the zone on Wednesday, inducing 11 ground-ball outs and just one fly out. When Kennedy did elevate his fastball, he threw it past the Bucs' hitters, who fanned eight times against the right-hander.
"It's been a lot of fun," Kennedy said. "Looking on the other side, you can tell it's a loose group, and they like to have fun."
Kennedy got off to a bit of a shaky start in the first, but came away unscathed. He allowed two hits and two walks, but got some help from catcher Rene Rivera, who nabbed Felix Pie at second base on a stolen-base attempt.
Kennedy then loaded the bases, but struck out Garrett Jones to end the threat, and the Pirates wouldn't put another runner in scoring position against him.
"It was probably a little bit too much of getting too picky and trying to throw the strikeout pitch, rather than having them put it in play," Kennedy said of his first-inning troubles.
Jones certainly came away impressed.
"He pitched tough, didn't give us many pitches to drive," the Pirates right fielder said. "I've faced him a lot with Arizona, and that's the best I've ever seen him."
A red-hot Will Venable created the Padres' first run almost single-handedly. He led off the third inning with a rocket double off the right-field wall, then advanced to third on a grounder to third base -- wisely waiting for Pedro Alvarez to make the long, off-balance throw across the diamond. Venable scored a batter later on a shallow sac fly to left by Yonder Alonso.
The Padres doubled their lead in the fifth when Chris Denorfia singled, stole second and scored on Alonso's single.
"We need our speed to come into play," Black said, praising the baserunning of Venable and Denorfia. "That's a part of our offense, and those two guys figure to be at the top of the list."
The two runs driven in by Alonso marked the first time the Padres first baseman has put together a multi-RBI game since July 27. The Padres hope Alonso can develop into a middle-of-the-order threat down the road, and his situational hitting on Wednesday bodes well.
"It's big," Alonso said. "I'm in the middle of the lineup. You'd expect me to do those things. But I can't really be thinking about that. I've got to take it day-in, day-out, make my little adjustments, and hopefully I hit the ball well."
Said Black: "He's still finding his way as a Major League hitter, who we think is going to knock in some runs."
Shortstop Logan Forsythe went 3-for-3 -- all singles, continuing his recent hot streak. In his last five games, Forsythe is 7-for-14.
The Pirates, meanwhile, mustered their only offense in the eighth when Pie led off with a walk and came around to score off reliever Luke Gregerson.
Huston Street picked up his 24th save, striking out a pair in the ninth, before getting Gaby Sanchez to fly to right to end the game.
AJ Cassavell is a reporter for MLB.com. Follow him on Twitter @ajcassavell. This story was not subject to the approval of Major League Baseball or its clubs.