Sandoval's back injury not serious
Sandoval's back injury not serious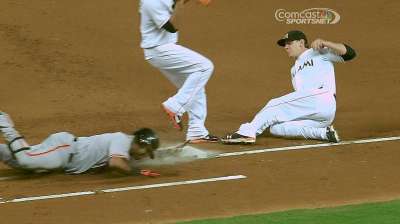 SAN FRANCISCO -- Giants third baseman Pablo Sandoval underwent an MRI on Wednesday for his sore back, which revealed no serious damage.
Manager Bruce Bochy said that Sandoval, whose ailment forced him to be scratched from Tuesday's lineup, probably will start Thursday's series opener against the Pittsburgh Pirates. Bochy also pronounced Sandoval fit to pinch-hit Wednesday if necessary.
"We're just giving him another day to let this calm down," Bochy said.
Bochy also said that infielder Tony Abreu, whose Minor League injury rehabilitation assignment was interrupted by a mild groin injury, likely will attempt to run Thursday. If Abreu emerges from that test pain-free, he could resume his rehab assignment with Triple-A Fresno on Saturday.
Chris Haft is a reporter for MLB.com. This story was not subject to the approval of Major League Baseball or its clubs.