Pill working out at third base as insurance
Pill working out at third base as insurance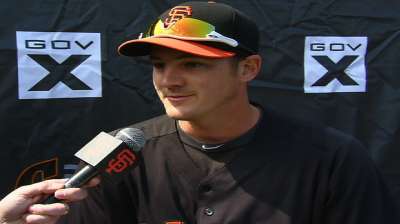 SAN FRANCISCO -- The Giants are trying to capitalize on Brett Pill's versatility, though it might happen in an emergency situation.
Pill's natural position is first base, where he's blocked by hot-hitting Brandon Belt. So Pill has been taking grounders at third base, which gives the Giants some insurance until Pablo Sandoval recovers from his sore back. Manager Bruce Bochy named Pill as his "extra infielder" for Wednesday's series finale against Boston, in the event of an emergency.
Pill has played 57 games at second base and nine at third in the Minors.
"Right now it's just to give us some coverage, a little depth in case something happens today," Bochy said.
Pill also has continued to work out in left field, where he has started seven games as a Major Leaguer. Bochy said that he wants Pill to practice at that spot more frequently before he starts another game there.
Chris Haft is a reporter for MLB.com. This story was not subject to the approval of Major League Baseball or its clubs.