Ryan capitalizes on rare start, leading Seattle offense
Ryan capitalizes on rare start, leading Seattle offense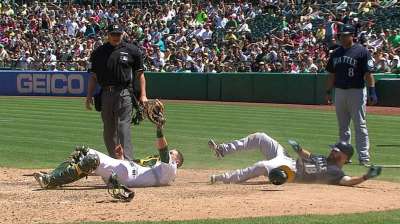 OAKLAND -- The 2013 season hasn't been the easiest for Brendan Ryan, but Wednesday provided a minor reprieve for a veteran who has seen his playing time decrease in favor of rookies while his play struggled.
Ryan started at shortstop due to a lineup shift with second baseman Nick Franklin unavailable because of injury, and he capitalized on the opportunity by going 2-for-4 with three RBIs, including the go-ahead run in the Mariners' 5-3 win against the A's at O.co Coliseum.
For the second straight game, Seattle put an Oakland backstop on his backside for the game winner when Dustin Ackley barreled over A's catcher Stephen Vogt to score off a double by Ryan in the sixth inning. Ryan pulled a liner into left field that ricocheted off third baseman Josh Donaldson's glove. Yoenis Cespedes fired a strike home, where home-plate umpire Chad Fairchild ruled Ackley safe.
"It was just one of those situations where I was trying to get to the plate as quick as I could," Ackley said. "I think he might have even been trying to deke me a little bit, just standing there like nothing was really happening. I kind of noticed at the last second, so it was kind of a half-slide, half-not-slide, pretty much is what it boils down to."
Ryan's double was his first extra-base hit since hitting a home run against the Red Sox on July 10. Entering the day, he had registered only four RBIs in his last 28 games.
"The frustration mounts and it gets, I want to say it's like, exponential when the at-bats are limited, because you have so much time to sit and think about it," Ryan said. "What you would have done differently or the pitch you missed, that's where it gets really frustrating."
"It's not easy. It's definitely not easy. I got no reason to lie. We're all professionals. If I'm hitting .280, who knows what happens. The fact of the matter is we've got big leaguers here in the clubhouse. Everybody's earned their role. This is the role I've carved out for myself. I'm just happy to, as cheesy as it may be, be in the big leagues and still living the dream. So it is what it is, another overused saying. All I can try to do is the best I can in the opportunities I'm getting."
"He's done nothing but help those guys up the middle," acting manager Robby Thompson said. "During pregame, during the game, whether it be anything that happens on the bases, defensively, relay plays, you name it, he's been there for them. He's been really solid about that."
On Wednesday, Ryan was of service to Hisashi Iwakuma, who earned his 12th victory of the season. The right-hander held the A's to three runs on seven hits in seven innings of work. Two of Oakland's runs came off homers, including Coco Crisp's shot off Iwakuma's first pitch of the game.
Iwakuma battled out of two situations with an Oakland runner on third base and one or no outs to keep the A's at bay. He stranded Jed Lowrie after a triple in the first inning, and got Eric Sogard caught in a rundown in the seventh, when Lowrie hit a grounder to Ryan, who threw home.
"Early on, my pitches were up," Iwakuma said through an interpreter. "But as I got deeper into my game, I was able to command my pitches lower in the zone. Even with runners on second and third, I was able to keep the ball down and pitch effectively."
Seattle scored its first two runs off home runs by Michael Morse and Brad Miller in the second and fifth innings, respectively. It was the first home run since Aug. 2 for Morse, who has hit five of his 13 homers this season at O.co Coliseum and is batting .667 with two home runs, two doubles and two RBIs against A's starter A.J. Griffin, who was charged with the loss.
Ryan gave the Mariners some breathing room with his third RBI of the day on a single in the eighth. He entered the game 9-for-75 over his previous 27 games.
"Oh-and-two with Ackley and [Griffin] walks him, and now he's got an 0-2 pitch to Ryan," A's manager Bob Melvin said. "He's gotta make a better pitch than that. That's two runs right there, and that gave up the lead."
The Mariners finished 5-4 on their road trip against three of the best teams in the American League: the Rays, Rangers and A's.
"Great road trip. Proud of these guys," Thompson said. "Obviously, all three of these teams are either in first or second place. They've been playing well all year long. Looking back on it, it could have been even a little better. We had a chance to win a couple more ballgames, but overall, playing the teams that we played on this tough road trip, we feel it was a great road trip."
Jeff Kirshman is an associate reporter for MLB.com. This story was not subject to the approval of Major League Baseball or its clubs.