Mariners hopeful Franklin can return for Friday's opener
Mariners hopeful Franklin can return for Friday's opener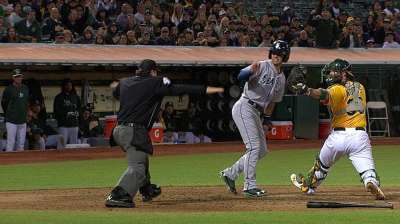 OAKLAND -- The Mariners are optimistic that Nick Franklin will miss just one game after sustaining a laceration on his left knee that required five stitches in Tuesday's 7-4 comeback win against the A's.
Franklin scored the fourth run of Seattle's five-run eighth inning by sliding through Derek Norris' attempt to block the plate, which resulted in both players exiting the game.
Franklin said after the game that doctors told him he'd be out four or five days, but acting manager Robby Thompson said Friday's opener against the Angels in Seattle is a possibility with an off-day Thursday.
"I think they'll be able to pad it up to protect it," Thompson said, adding that Franklin's ability to play through the pain will be the deciding factor, not the stitches themselves.
With the location of the gash, bending the knee, sliding and diving could prove difficult for the rookie second baseman.
Brad Miller started at second base and led off for the Mariners on Wednesday in Franklin's place, with Brendan Ryan playing shortstop. Thompson said he considered moving Dustin Ackley to second base, but opted to keep him in left field because of starter Hisashi Iwakuma's tendency to induce ground balls.
Jeff Kirshman is an associate reporter for MLB.com. This story was not subject to the approval of Major League Baseball or its clubs.