Norris hopes for quick return to give Vogt relief
Norris hopes for quick return to give Vogt relief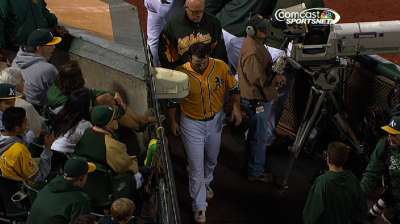 OAKLAND -- Walking around with a broken bone in his big left toe Wednesday morning, A's catcher Derek Norris still wasn't ruling out the possibility of being available within a few days.
Neither was his manager.
"I never anticipate ever going on the 15-day DL," said Norris, injured in a play at the plate in Tuesday's 7-4 loss to Seattle. "If I can do everything without too much pain, I'm going to do it. The injury's not going to get any worse. It's only going to get better. So in my eyes, I'll just continue to progress each day."
"We don't feel like it's something that needs a surgical procedure at this point," A's manager Bob Melvin said. "With the day off [Thursday], we'll consider all our options. With a fracture like that, there is some thought that Derek will feel better in the coming days, but we'll see and hopefully have some resolution on Friday in Baltimore."
Though some clubs would've had no choice but to make a move already and bring in a backup catcher, the A's have the luxury of playing the waiting game because of Josh Donaldson's vast experience behind the plate.
Using the third baseman in such a way is far from ideal, though they nearly had to in Wednesday's 5-3 loss.
Melvin and a team trainer had to tend to Stephen Vogt during the sixth inning, when the catcher was thrown off his feet and onto the ground in a collision at home plate with Dustin Ackley. He ultimately stayed in the game, though Donaldson disappeared into the dugout in search of his gear while Vogt was down.
"It's nice to have that dynamic in a guy that can do that," Melvin said of Donaldson, "but we certainly don't want to have to put him behind the plate."
But Vogt is the only healthy catcher on the A's 40-man roster, with John Jaso already sidelined by ongoing concussion symptoms and Minor Leaguer Luke Montz dealing with a shoulder injury at Triple-A Sacramento.
Jaso took part in baseball activities for the first time in weeks Tuesday, hitting off a tee, but he's not expected to rejoin the A's for at least another month.
Next in line, Melvin said, is David Freitas, acquired in last year's Kurt Suzuki trade with the Nationals. The A's raved about the power-hitting Freitas in Spring Training, and he's hitting .301 in 21 games with Sacramento after batting just .214 in 61 games with Double-A Midland to start the season.
But before making any calls to the River Cats, the A's are likely to scan the waiver wire, while determining whether Norris requires a DL stint.
"We're lucky to have Stephen Vogt, but we're down our two catchers -- as far as Derek and Jaso -- and that's not desirable," Melvin said. "You deal with injuries and you go forward, but losing both your catchers can be tough."
The A's were in a similar situation just last week, when Norris was relegated to the bench because of back spasms.
"You put all the weight on one guy," Norris said. "He's been battling some nicks and bruises himself, especially being behind the plate. As much as we have to do with taking foul balls, blocking balls, you never know what's going to happen each day.
"I feel bad when I come out of games. Three times in the last two weeks, he's had to fill in for me. If I could help it, I would obviously change it."
Jane Lee is a reporter for MLB.com. Read her blog, Major Lee-ague, and follow her on Twitter @JaneMLB. This story was not subject to the approval of Major League Baseball or its clubs.