After call goes against Mets, they fall on homer
After call goes against Mets, they fall on homer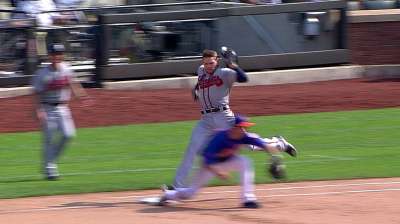 NEW YORK -- If Major League Baseball needed a case study to justify its planned expansion of instant replay next season, Wednesday's game between the Mets and Braves would be it. Though the Mets lost, 4-1, on Chris Johnson's three-run homer in the 10th, it was the previous play that weighed heaviest on their minds.
At the time, the score was still knotted, which suited the Mets just fine. Though they had struggled to convert their numerous scoring opportunities all afternoon, the Mets had the heart of their lineup coming up in the bottom of the 10th. Scratching across a single run against the underbelly of Atlanta's bullpen did not seem like such a tall order.
But after Scott Atchison allowed a seemingly harmless two-out single in the 10th, Scott Rice came on and fumbled Freddie Freeman's grounder back to the mound. Chasing after it, Rice grabbed the ball and whirled toward first, where his throw appeared to beat Freeman to the bag by a hair. First-base umpire Jerry Layne saw it differently, calling Freeman safe.
The next batter, Johnson, redirected Greg Burke's first pitch into the left-field seats for a three-run homer.
"I thought we got him, just from my feel," first baseman Josh Satin said of Freeman. "I felt that the ball was in my glove before he hit the bag, but it's a tough play, and the break didn't go our way."
As soon as Johnson's blast took flight, Daniel Murphy began barking at Layne, earning the second baseman a quick ejection. That brought Mets manager Terry Collins out of the dugout for a cursory argument and an ejection of his own. Murphy called his quarrel with Layne "a difference of opinion," stopping short of directly criticizing the umpire.
Still, Murphy said, "I can't sit here and say those were the only opportunities we had. Obviously there were other opportunities. But that one was going to stand out, because it was so late."
Scoring chances were actually quite plentiful for the Mets, who put at least one runner on base every inning against Braves starter Alex Wood. But Satin's leadoff homer in the fourth was the only run they could muster; among their regrets, the Mets stranded Juan Lagares on second base after a leadoff double in the fifth, then left the bases loaded with two outs in the ninth.
It all translated into a no-decision for starting pitcher Jon Niese, who struck out nine to continue his strong run since returning from the disabled list earlier this month. Successfully rehabbing a partially torn rotator cuff in his left shoulder, Niese has returned to post a 2.84 ERA with 23 strikeouts and five walks in 19 innings. Compare that to the 4.32 ERA, 49 strikeouts and 33 walks he compiled over his first 77 innings of the season.
"[Niese] carved me up pretty good," said Johnson, who went 0-for-4 with three strikeouts before his homer in the 10th. "Every at-bat I went up there, he threw me something different. He was throwing them for strikes, throwing them out of the zone when he needed to. He was nasty. I tip my cap to him. He was the reason I had a tough day."
Niese's only trouble unfolded after a frightening moment in the sixth, when he struck Jason Heyward in the right jaw with a 90-mph fastball. Standing behind Heyward, catcher John Buck watched the Braves outfielder fall to the ground and begin spitting up blood, while Niese wandered around the area in front of the mound.
Moments later, after Heyward slowly walked off the field en route to a local hospital for X-rays, Niese allowed two singles and his only run before escaping the inning.
"It's every pitcher and every hitter's worst nightmare," Niese said. "I felt horrible. Sometimes this game can be pretty dangerous."
Sometimes, the Mets also learned, it can be unfair. When Collins came to the mound to change pitchers following Freeman's hit in the 10th, infielder Justin Turner mentioned that if Major League Baseball had implemented expanded instant replay this year as opposed to next, the Mets might have been out of the inning unscathed.
"That's the beauty of replay, and how necessary it is," Niese said, echoing the popular sentiment around his clubhouse.
"Yeah," Collins agreed. "But that doesn't help us today."
Anthony DiComo is a reporter for MLB.com. Follow him on Twitter @AnthonyDicomo. This story was not subject to the approval of Major League Baseball or its clubs.