Johnson sends Braves to win with homer in 10th
Johnson sends Braves to win with homer in 10th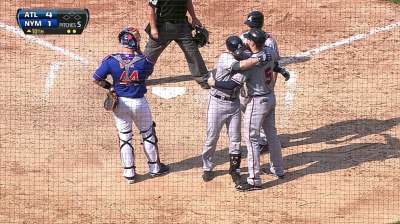 NEW YORK -- The first two pitchers Chris Johnson faced for his first four at-bats left him bewildered. Mets starter Jonathon Niese utilized his entire repertoire to keep Johnson guessing, and Gonzalez Germen needed just four pitches of three different types to retire the Braves' third baseman. Four at-bats, three strikeouts.
Johnson wiped away those failures at the plate with one big swing in the top of the 10th inning. On the first pitch he saw from New York reliever Greg Burke, Johnson hit a three-run home run to send the Braves to a 4-1 win over the Mets at Citi Field.
"[I had a] frustrating first four at-bats. It was just a tough day until that last at-bat," Johnson said. "I was just trying to learn from those last four at-bats and just try to shorten my swing a little bit and get a good pitch to hit."
Johnson got a sinker, and turned on it for his 10th home run of the season.
Until Johnson's home run, the Braves' offense struggled to put runs on the board. A stellar performance by Alex Wood and some strong pitching from the bullpen, though, allowed Atlanta to stay in position for the win.
Making his seventh Major League start, Wood provided the Braves with another solid outing. Aside from giving up a solo home run to Josh Satin in the fourth inning, the lefty didn't make many mistakes.
Wood said he struggled with his command on Wednesday more than he did in any other start this season. But he still managed to earn big outs to shut down New York's lineup. The Mets were 0-for-9 with runners in scoring position.
"I thought I made some pitches when I needed to. That's all you can ask," Wood said. "These kinds of days are the ones that test you, and you kind of show your true colors if you battle through when you don't really have that great of stuff."
In his past four starts, Wood has allowed only one run or fewer. The Braves slotted Wood into the rotation after Paul Maholm went on the disabled list with a bruised left wrist, and the 22-year-old has thrived recently.
Wood didn't have much room for error on Wednesday, as Niese stifled Atlanta's hitters. The Braves eventually scored in the sixth inning, though they did so after seeing one of their best players leave the game following a scary incident.
With two outs in the inning, Niese delivered a pitch that hit Jason Heyward's right jaw. Heyward fell to the ground, and head trainer Jeff Porter and manager Fredi Gonzalez rushed out to attend to him.
"It was tough. I wanted to elevate a fastball right there, and then it didn't really slip out of my hands, but it kind of just ran in on him," Niese said. "Obviously no intent, but I just felt bad. It's every pitcher and every hitter's worst nightmare. I just hope he's OK."
After a few of minutes, Heyward stood up and walked off the field while Porter held his arm.
Heyward was seen by Mets doctors at Citi Field before being transported to a local hospital to get X-rays.
"He never lost consciousness," Gonzalez said. "He was talking the whole time when he got hit with the ball. Before they took him to the hospital, he popped his head into the dugout and said 'bye' to some of the guys."
Niese then allowed back-to-back singles to Andrelton Simmons and Freddie Freeman to drive in Jordan Schafer -- who pinch-ran for Heyward -- to tie the game at 1.
Wood and Atlanta's bullpen pinned down the Mets from there. Jordan Walden, Luis Avilan and Craig Kimbrel combined for four scoreless innings. Walden threw two of those and struck out four batters without allowing a hit.
That allowed for Johnson's heroics in the 10th. Simmons singled off Scott Atchison, and then Freeman did the same off Scott Rice -- although the Mets argued that Freeman was out on the play. Mets manager Terry Collins brought in Burke to face Johnson, and Burke surrendered Johnson's homer. Collins and Mets second baseman Daniel Murphy were ejected after the homer.
Johnson said he had to grind his at-bats out. He ended up with the biggest hit in a game where he had looked overmatched at the plate for most of the day.
It earned the Braves a win, but also gives Johnson something to keep in the back of his mind for the next time he runs into a pitcher he can't solve.
"You can learn from it," Johnson said. "Hopefully I draw from this next time I'm having a tough day."
Chris Iseman is an associate reporter for MLB.com. This story was not subject to the approval of Major League Baseball or its clubs.