Uggla's vision has improved since Lasik surgery
Uggla's vision has improved since Lasik surgery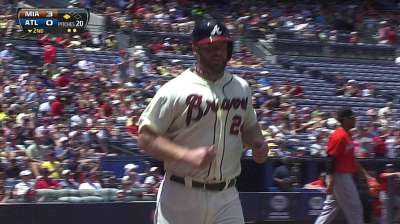 NEW YORK -- Only when Braves second baseman Dan Uggla sat down to watch video of his at-bats did he realize just how much his eyes were failing him. Pitches he could've sworn were practically over his head were over the plate. Breaking balls he used to hit looked unrecognizable in the batter's box.
Uggla's vision wasn't terrible, but for someone who makes a living hitting Major League pitching, it certainly wasn't sufficient. So the slugger, who was diagnosed with astigmatism during Spring Training, underwent Lasik surgery on Friday to correct his vision.
So far, the surgery appears to have been successful.
"The little things, I've noticed," Uggla said. "I can see a lot more clear."
Uggla was placed on the 15-day disabled list on Aug. 13 so he could undergo the procedure. He was hitting .186 with 21 home runs and 53 RBIs in 112 games this season, with 146 strikeouts. Uggla said at times, it almost looked like there were two pitchers standing on the mound.
Uggla took batting practice at Citi Field on Tuesday, and he will do so again once the Braves get to St. Louis to start their series against the Cardinals on Thursday. He said he's hitting well in batting practice, though it's far different from the pitching he'll see when he gets back into the lineup.
"You can hit BP with bad eyes and make the adjustment accordingly," Uggla said. "It's just when pitchers are throwing as hard as they do with the breaking stuff they do, in order to have any kind of a chance, you need to be able to see pretty good."
Correcting his vision is only half the battle.
Uggla said he still needs to fix his swing and his timing before he starts hitting the way he wants to, but having improved vision should make that easier.
"I've still got to do it physically," Uggla said. "Just getting my eyes fixed, it's not just going to cure everything."
Atlanta manager Fredi Gonzalez said on Tuesday that Uggla will likely be examined by team doctors once more before Uggla plays in a rehab game.
Chris Iseman is an associate reporter for MLB.com. This story was not subject to the approval of Major League Baseball or its clubs.