J. Upton out again due to upper back strain
J. Upton out again due to upper back strain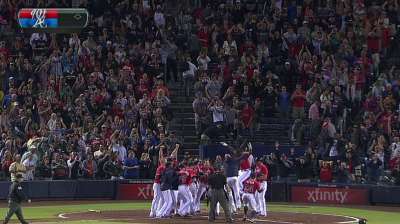 NEW YORK -- Justin Upton was out of the Braves' lineup for the second straight game on Wednesday after sustaining a left upper back strain before Atlanta's loss to New York on Tuesday.
Before the Braves took batting practice prior to the series opener at Citi Field, Upton was taking some swings in the batting cage when he felt the muscle grab on him.
"I was hitting in the cage, and it just tightened up," Upton said.
Upton received treatment immediately, but Atlanta manager Fredi Gonzalez said it never loosened up to the point where he felt comfortable starting him. Gonzalez was hoping some rest overnight would help.
But Upton wasn't in Wednesday's lineup, either. The left fielder received more treatment at Citi Field, but Joey Terdoslavich got the start in left against the Mets.
After the game -- which Atlanta won, 4-1, in 10 innings -- Gonzalez said Upton was available to pinch-hit if the Braves needed him to.
"Hopefully tomorrow he'll keep making good progress that direction and maybe get to play," Gonzalez said.
Upton is hitting .269 with 23 home runs and 62 RBIs this season. He's tied for second in the Major Leagues with seven home runs in August. Upton's been one of the Braves' hottest hitters -- since July 8, Upton is hitting .333 with eight home runs and 23 RBIs in 32 games.
After two days of treatment, Upton is hopeful he can return to the field in St. Louis, where the Braves will open a four-game series on Thursday.
"I continued to get treatment," Upton said. "I think I should be fine for the next series."
Chris Iseman is an associate reporter for MLB.com. This story was not subject to the approval of Major League Baseball or its clubs.