Sori's homer leads Yanks on Ichiro's big night
Sori's homer leads Yanks on Ichiro's big night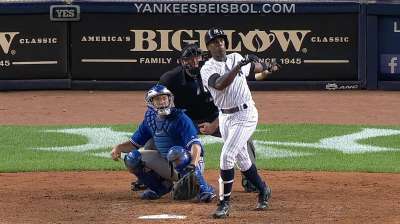 NEW YORK -- During his formative years in Japan, Ichiro Suzuki filled his days dreaming of a career in professional baseball, one he thought only to be possible if he became a well-rounded athlete. Life as a one-dimensional slugger would not have been good enough.
That belief helped Ichiro develop into a consistent all-around performer on two continents, one who has now logged 4,000 hits between two countries' top professional leagues. Yet even he appreciates the raw strength of a timely homer like the one Alfonso Soriano delivered on Wednesday, lifting the Yankees to a 4-2 victory over the Blue Jays.
"I said, 'This is the chance now to do something impressive,'" said Soriano, who blasted a go-ahead two-run shot in the eighth inning off R.A. Dickey. "Every game is very important for us. I just wanted to see a good one and make a good swing, and that's what happened. He threw me a good one and I made a good swing."
The streaky Soriano snapped out of an 0-for-17 skid by turning on a Dickey knuckleball and sending it arcing into the left-field seats, putting the Yankees in position to log their ninth win in the last 11 games on a memorable evening at Yankee Stadium.
Ichiro wasted no time collecting his 4,000th hit, lacing a line-drive single to left field against Dickey in the first inning. The Yankees spilled out of the first-base dugout to greet Ichiro, who bowed to acknowledge a standing ovation from the crowd.
"It was supposed to be a number that was special to me, but what happened tonight, I wasn't expecting," said Ichiro, who collected 1,278 of his 4,000 hits during a standout nine-year career in Japan that started in 1992.
"When my teammates came out to first base, that was very special. The fans, I wasn't expecting so much joy and happiness from them. That's what made it very special tonight; not just the number, but all the things that came with it were very special."
The hit was the 2,722nd of Ichiro's Major League career, nudging past Lou Gehrig on the all-time list.
"You never want to be the guy that gives up the milestone, at least I don't," Dickey said. "That being said, what an incredible achievement, and the manner in which he has done it is equally as impressive. It couldn't have happened to a more professional hitter."
Soriano's blast put Mariano Rivera in position for his 37th save of the season, which included the all-time saves leader whirling on the mound to pick off Rajai Davis wandering off the second-base bag after a one-out double.
Dickey took the loss in a complete-game outing as the Yankees defeated the reigning National League Cy Young Award winner for the second time this season. The victory went to left-hander David Huff after he turned in five sterling innings of one-hit relief to follow spot-starter Adam Warren.
"We've had to use our bullpen a lot, so it was really important for our guys," Yankees manager Joe Girardi said. "Three or four guys got a night off, which was important moving forward. Just an outstanding performance by Huff."
Huff, who logged his first Yankees win in his third appearance with the big league club, said that his familiarity with Toronto's lineup helped.
"A lot of that lineup was down in [Triple-A] Buffalo when I was down in Scranton," Huff said. "I got to face them and got a good feel for them."
Warren powered through 60 pitches, holding Toronto to two runs and four hits over three-plus innings, including a Josh Thole homer. Munenori Kawasaki also connected for a second-inning RBI single.
"The biggest thing was just try to go as long as I could," Warren said. "I really wasn't sure how long I could go, but I just tried to go as long as I could and give the team a chance to win."
New York logged just two runs through the first seven innings against Dickey, as Austin Romine slugged a sacrifice fly to the left-field warning track in the second inning and Curtis Granderson singled home a run in the third inning.
There was one off note of the evening for the Yankees, who lost third baseman Jayson Nix to a fractured left hand when he was hit by an 80-mph Dickey pitch in the second inning. Nix is likely to miss the remainder of the regular season.
"I feel terrible," Girardi said. "Obviously he's got a broken hand and he's going to be out for a while. I'm not sure what exactly we're going to do, but I feel really bad."
The Blue Jays have lost 12 straight at Yankee Stadium, while the Yankees secured their fourth straight series win, fanning their hopes of reeling off a hot stretch to power back into the thick of the playoff race for the season's final month.
"It's great. It's a long season," Soriano said. "Sometimes we have a bad week or two weeks, but we come back from that. I think the lineup we have now is very strong, and I hope the offense keeps producing like we're producing right now."
Bryan Hoch is a reporter for MLB.com. Follow him on Twitter @bryanhoch and read his MLBlog, Bombers Beat. This story was not subject to the approval of Major League Baseball or its clubs.