Dickey hangs tough into eighth, but Blue Jays fall
Dickey hangs tough into eighth, but Blue Jays fall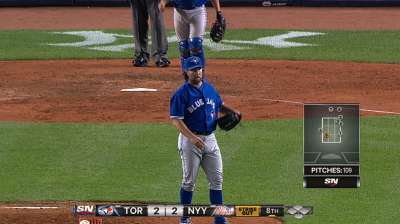 NEW YORK -- R.A. Dickey has been around professional baseball for the past 17 years, and it hasn't always been smooth sailing, but nothing quite compares to the trials and tribulations currently facing the 2013 Blue Jays.
Toronto's No. 1 starter has experienced more than his fair share of adversity over the past two decades. He had to re-invent himself as a knuckleballer, once tied a modern-era baseball record by surrendering six homers in a game, and essentially has had to prove his doubters wrong at every turn.
Dickey agreed to join the Blue Jays during the offseason with the belief that those moments of misfortune would be replaced by a team playing competitive baseball in September and beyond. Instead, following a 4-2 loss to the Yankees on Wednesday night at Yankee Stadium, Toronto finds itself a season-high 13 games under .500 and in last place in the American League East.
"It's frustrating, it's like a Twilight Zone, different day, same script," Dickey said after taking his 12th loss of the season. "It's really kind of a fluky kind of feeling. I don't really know how it to put it into verbiage. I'm at a loss when it comes to that. I just keep telling myself to leave it all on the field, and whatever happens, happens."
Dickey got off to a well-documented rough start during his first year in Toronto. As late as June 21, he had an ERA of 5.15, but he has since begun to turn things around. Dickey has a 3.64 ERA over his past 11 outings, but even when everything seems to be going well, more often than not, there has been one pitch -- or one inning -- which has essentially erased all of the positives.
In the start prior to Wednesday, it was Dickey carrying a 3-2 lead into the seventh inning only to see it erased following an infield single, walk, wild pitch and a ground ball to first base. The outing before, it was seven strong innings of three-run baseball as he sat helpless in the dugout watching his club struggle on offense.
On Wednesday night in New York, it was more of the same. Dickey was holding firm in a 2-2 ballgame until a knuckleball that didn't dance on its way to the plate was sent over the wall in left field by Alfonso Soriano for a two-run homer in the eighth inning.
It has almost come to be expected, but Dickey can't seem to recall a year in baseball that has been this mystifying.
"I've thrown [more than 2,500] innings over 17 years, so you have all kinds of different games," Dickey said. "I barely remember a season that has been like this. The good news is that it feels like a fluke to me, meaning that the expectations are that it will change. But you have to keep grinding it out, punching the clock and showing up."
Dickey did everything he could to keep the Blue Jays in Wednesday night's ballgame through seven innings, but once again it was a lack of offense that led to his club's undoing. In a game when Ichiro Suzuki celebrated the 4,000th hit of his career between the U.S. and Japan, the Blue Jays were unable to get more than one with runners in scoring position.
Toronto went 1-for-6 in those types of situations while also stranding 10 baserunners. Over the Blue Jays' past 11 games, they've managed to score more than four runs just once. It's even worse over the past four contests, with the club managing to score more than two only one time.
The lack of runs came despite the fact that New York pieced together Wednesday's pitchers by going with relievers Adam Warren and David Huff for almost the entire game.
"We've been pecking away with single runs here and there, but we need a big blast here and there with guys on base," Blue Jays manager John Gibbons said. "But we just haven't been able to get that."
The game did start out relatively positive, as Toronto opened the scoring in the top of the second inning when Anthony Gose sparked a small rally with a single to right.
Gose then proceeded to steal and came around to score on an RBI single to right by Munenori Kawasaki. Gose was nearly thrown out at the plate, but Ichiro's throw bounced several feet in front of home plate, and catcher Austin Romine was unable to come up with the ball.
Toronto added another run in the fourth when Josh Thole hit a deep home run to right-center field. It was a rare display of power for Thole, who previously had a total of four homers since the start of the 2011 season. Thole's first as a member of the Blue Jays tied the game at 2 and created a stalemate between the two sides.
Warren was charged with both of the runs over his the three-plus innings, while allowing four hits and two walks. The 25-year-old was on a limited pitch count after making all of his previous 24 appearances this season out of the bullpen. Huff then entered in relief and was nearly flawless despite a lack of command, allowing just one hit.
Toronto now finds itself 17 games back in the AL East while Dickey has just one win since July 6. The frustration continues but the explanations remain elusive.
"I can't use the type of season that we've had, or the personnel, I can't use any of that as an excuse," Dickey said. "If you want to get better, you have to go at what you've done poorly and try to get out of it. I take it very seriously, it doesn't wash away easily, and it will be another 24 hours before I'm able to forget it."
Gregor Chisholm is a reporter for MLB.com. Read his blog, North of the Border, and follow him on Twitter @gregorMLB. This story was not subject to the approval of Major League Baseball or its clubs.