Westbrook's bat, not arm, helps Cardinals in win
Westbrook's bat, not arm, helps Cardinals in win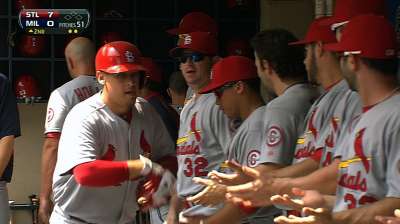 MILWAUKEE -- For a brief moment it looked like it would be an easy Wednesday for the Cardinals, who built a big lead in the first two innings at Miller Park.
But after yet another adventurous Jake Westbrook start, the Cardinals' bullpen fended off several Milwaukee threats and held on for an 8-6 win over the Brewers in the rubber game.
The win pulled the Cardinals to within one game of the Pirates, who lost to San Diego, 2-1, on Wednesday night, for the NL Central lead.
"That was a big win," Matheny said. "Those are ones that you … you've got to find a way to win with that kind of offensive production up early, and that team kept coming. Fortunately, we kept doing what we needed to do and got enough room. That was a tough game."
The Cardinals posted seven of their 12 hits in the first two innings, including five in a six-run second inning. Carlos Beltran and Allen Craig each homered off Brewers starter Tom Gorzelanny in the lefty's 39-pitch frame and Westbrook helped himself with a bases-loaded two-run double to make it 3-0 before an out was recorded.
Westbrook stranded two runners in each of the first two innings and looked to be on his way to an easy win. As it turned out, the right-hander, who has struggled so mightily in August and has not recorded a win since July 24, barely held the lead before exiting with two outs in the fifth inning with a 7-5 advantage and runners on first and second.
Kevin Siegrist (2-1) relieved Westbrook and walked Logan Schafer to load the bases before he got pinch-hitter Jeff Bianchi to foul-tip strike three into Yadier Molina's mitt.
Siegrist, Seth Maness , Trevor Rosenthal and Edward Mujica , who picked up his 33rd save, combined for the final 4 1/3 innings to preserve the win and end a 4-2 road trip through Chicago and Milwaukee.
The underlying issue from Wednesday, though, is what the Cardinals will do with Westbrook from this point forward in a playoff push.
The 13-year veteran has endured a rough month, posting an 0-3 record and 11.02 ERA in three starts entering Wednesday. His line after another subpar outing was five runs (four earned) on nine hits in 4 2/3 innings, walking one and striking out one. The right-hander threw 75 pitches, 48 for strikes.
In his last five starts -- four losses and a no-decision -- Westbrook's ERA has ballooned from 2.95 to 4.49.
"[Westbrook] started out pretty good [Wednesday]," Matheny said. "For whatever reason, they were finding the good part of the bat and finding holes. It's just tough to watch for Jake."
When asked if he will review Westbrook before his next scheduled start on Monday, Matheny answered, "We review everybody all the time."
Westbrook noted there were some positives to his 18th start of the season other than the obvious (a St. Louis win).
"I still feel like I pitched a lot better than I have been in terms of throwing strikes and getting ahead of guys," Westbrook said. "I still made some good pitches that they took some good swings on. Not what you want to do when you've got a seven-run lead, but it's a step in the right direction for me, I guess. Definitely ways I can still improve."
An issue for the right-hander of late had been his grip on his sinker, but he said Wednesday it was a step in the right direction.
"It was a lot better today," Westbrook said. "I would say almost night and day. Obviously, I guess, the numbers didn't reflect that, but I felt a lot better with where I was. Just a matter of continuing to get better and finding a way to get back to where I was."
On Monday, the Cardinals used a four-run eighth-inning rally in an 8-5 win, and on Tuesday the Brewers rode a five-run fourth inning to a 6-3 win. Another crooked number was the difference on Wednesday.
After Craig's run-scoring double in the first, the Cardinals broke the game open with a six-spot in the second off Gorzelanny.
Westbrook helped himself by driving in the first two runs on a bases-loaded double. Matt Carpenter followed with a sacrifice fly and Beltran made it 6-0 on his 22nd home run, a 442-foot two-run shot off the bottom-left corner of the scoreboard in center field. Craig finished the St. Louis scoring with his 18th home run, a solo shot to the seats in right-center field that was caught by a man in a Cardinals shirt.
"We felt that scoring seven it was going to be something that was easy for us," Beltran said of winning the game. "But actually they continued to put up good at-bats and they were able to almost tie the game."
Almost being the key word. The Brewers finished with a season-high 14 runners left on base.
"I'm happy to see that we're battling to get people on base, but we're not getting the big hit, or at least we didn't today," Brewers manager Ron Roenicke said. "It's not like bases loaded, no outs, and we don't come through. It's a little different. I'm happy we were still battling."
Aramis Ramirez started the Brewers' climb back into the game with his seventh home run and second of the series. He lined the second pitch he saw from Westbrook -- a cutter -- just over the wall in left.
Milwaukee added two runs in the fifth on a two-out rally that concluded with RBI singles from Juan Francisco and Sean Halton to knock Westbrook out of the game.
The Brewers threatened again in the seventh and eighth innings, but Rosenthal relieved Maness and coaxed pinch-hitter Norichika Aoki into an inning-ending flyout to end the seventh, and Mujica took over for Rosenthal to strike out Francisco to end the eighth.
Matt Holliday hit a solo homer in the ninth to make it 8-5, and Schafer went deep in the bottom of the inning.
Shane Robinson started for regular Cardinals center fielder Jon Jay and went 3-for-4 with a run.
Gorzelanny lasted just 3 2/3 innings, coughing up seven runs on 10 hits, walking one and striking out five. He threw 79 pitches, 56 for strikes.
The Cardinals improved to 25-16 in series finales and 20-10 on getaway days this season.
Kevin Massoth is an associate reporter for MLB.com. This story was not subject to the approval of Major League Baseball or its clubs.