O's staying loose, keeping mood light
O's staying loose, keeping mood light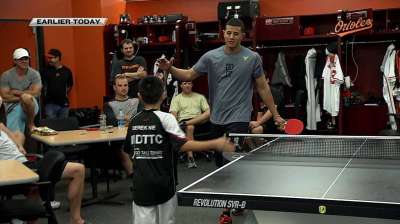 BALTIMORE -- Though they have lost six of eight games, the Orioles have managed to keep the mood light in the clubhouse as they try to get back on track in the postseason race, and Wednesday afternoon was no exception.
Several members of the Maryland Table Tennis Center club were in the clubhouse hours before the series finale against the Rays, with the Orioles pitted against some of the best young players in the world.
"Nobody in here [was] able to get their serve back," manager Buck Showalter said after taking in some of the games, which caused a lot of laughter and good-natured ribbing as the table-tennis players easily bested the professional athletes.
Showalter thinks it's important to have fun over the grind of a 162-game regular season and stressed that the clubhouse isn't his domain.
"It's the players' clubhouse. It's not mine," said Showalter, who had the coaches' lockers moved out of the clubhouse in one of his initial moves after taking the helm in 2010. "It's a place I want them to feel like they want to come to.
"The environment is important. So many serious things go on there for three or four hours. We have a lot of things that go on, a lot of things that happen on the road that nobody knows about. We've got 100 things going on, fantasy football, and thank God. Otherwise it'd be boring. They're -- some of them I can't talk about -- pretty funny."
Brittany Ghiroli is a reporter for MLB.com. Read her blog, Britt's Bird Watch, and follow her on Twitter @britt_ghiroli. This story was not subject to the approval of Major League Baseball or its clubs.