Rays' win streak over after Hellickson falters
Rays' win streak over after Hellickson falters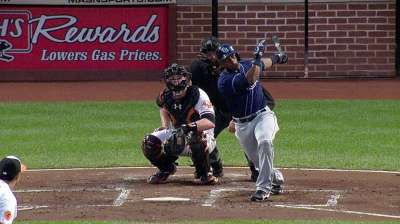 BALTIMORE -- Chris Davis' Eutaw Street blast epitomized Jeremy Hellickson's frustrations on Wednesday night.
The Orioles slugger clubbed his 46th homer of the season on Hellickson's first pitch of the fifth inning. Once the ball landed, Davis staked his claim to the 74th round-tripper to land on the street that runs parallel to Camden Yards' right-field wall.
Hellickson pitched to two more hitters before getting the early hook with the Rays trailing, 4-2. The lead stood, giving the Orioles the final game of the three-game series.
"When we left to come up here, we would have signed up for [winning two out of three] any day of the week," manager Joe Maddon said. "But once you win the first two, you definitely want to win all three. You get greedy."
The Rays (72-53) saw their three-game winning streak snapped, and they also saw their share of first place in the American League East evaporate before 24 hours had passed. The Red Sox reclaimed sole possession of the top spot with a 12-1 win over the Giants on Wednesday afternoon.
Hellickson began his 26th start of the season in the middle of a recent freefall, with the 26-year-old right-hander having gone 0-3 with an 8.00 ERA in his previous four starts. And he struggled from the outset, even though he battled to minimize the damage.
In the first inning, the Orioles loaded the bases with no outs, but Hellickson escaped with just two runs scoring. His encore in the second saw him again bend but not break, as the Orioles could not score with the bases loaded.
Adam Jones hit his 26th home run of the season leading off the third in advance of Davis' fifth-inning clout, which put the Orioles up by two.
"Jones' was a fastball and Davis' was a changeup," said Hellickson, who noted that he missed his location on both pitches. "Davis' was a little higher. They were both right in their zones. Davis was a changeup belt-high, and Jones' was a fastball center cut."
Hellickson allowed four runs on seven hits and three walks in 4 1/3 innings to take the loss. He is now 10-7 on the season with a 5.01 ERA after getting off to a 10-4 start, which was fueled largely by his work from June 2 to July 26, when he went 8-1 with a 3.17 ERA.
"That eight-, nine-game stretch, I think that's me," he said. "I was down in the zone. Throwing strikes. Making them put it in play. I haven't done any of that the last four or five games."
Tampa Bay started a makeshift lineup against Baltimore left-hander Wei-Yin Chen that included Sam Fuld in left, Jason Bourgeois in right and Sean Rodriguez at first base. Other than Bourgeois misplaying a ball in right, which resulted in a Nate McLouth double, the strategy paid off, as Rodriguez and Bourgeois each homered.
But the two home runs were all the Rays got off Chen, who picked up his seventh win of the season with his seven-inning performance.
"He pitched well," Maddon said. "He knows what he's doing. He's a fastball pitcher, he's proud of his fastball. And I love that part about him. And he knows just how to elevate it enough at the right time. … He's got a very good feel for his fastball. And then he dumps that little breaking ball in hitter's counts. ... Primarily, I see him pitch with his fastball very intelligently."
Although the home runs hit by Jones and Davis added up to well over 800 feet, the number that mattered most in the end was 1.75 -- as in seconds. That's how long it took Orioles catcher Matt Wieters to deliver the strike to second base that nailed Kelly Johnson attempting to steal for the final out of the game. Had Johnson been safe, the Rays would have had runners at second and third and a chance to tie the score.
"Did Wieters get the save?" Orioles manager Buck Showalter said. "1.75. That's sick. You can't do that. He's had a few of those. How about the tag by [shortstop J.J.] Hardy? I've got to tell you, he's the best tagger I've ever seen. He does it textbook where he starts in front and goes to the straddle and lets the ball travel. He catches the ball moving toward the runner. Most people catch it moving up. It's impossible for me. Some of you all might be able to do that."
Johnson explained his decision to run by saying that Orioles reliever Tommy Hunter is "very slow to the plate."
"I would always take me to be safe with a guy that's a 1.8, 1.9 [seconds] to home," Johnson said. "Obviously, they made a good throw and a pick and tag. Unfortunately, it looks worse than the odds would be. I felt like I had a great jump. ... I thought I had a great jump. If I don't have a good jump, I can shut it down. I thought all the odds were in my favor."
Bill Chastain is a reporter for MLB.com. This story was not subject to the approval of Major League Baseball or its clubs.