Cobb not having any trouble with the curve
Cobb not having any trouble with the curve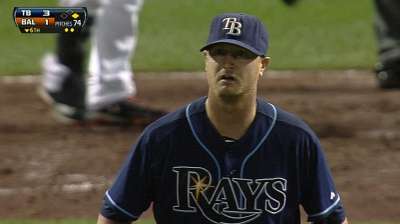 BALTIMORE -- Following Alex Cobb's six-inning stint against the Orioles on Tuesday night, manager Joe Maddon referred to Cobb's curveball as "elite" and even suggested that Cobb's curve might be the best in the Major Leagues.
"I haven't really thought too much about what he said," said Cobb on Wednesday. "It might have just been one of those nights where it was working really well for me."
Cobb did not throw the pitch much early in his career, especially if it was late in a count, because he didn't have the necessary confidence in the pitch to do so.
"I thought I had better options to go to," he said. "Now maybe I'm starting to realize the impact it can have later in the counts, get more comfortable with that, start being able to move it in and out of the zone when I want to."
Cobb adopted the knuckle-curve just over a year ago, learning the pitch from former Rays pitchers James Shields and Wade Davis.
"Pretty much the whole staff was throwing the knuckle-curve," he said, "so I started throwing it. You're really just throwing it with one finger. It's gotten to the point where I'm able to throw it a lot harder. Before it was 77, 79 [mph]. Now it's 79, 82 sometimes."
Cobb credits the angle of the pitch coming out of his hand with having a lot to do with its success.
"It comes out like a fastball, straight," he said. "It doesn't pop up. So it looks like my fastball or changeup. It comes out of the same plane. So maybe I'm just getting more confidence with it. And with more confidence in a pitch comes more drive throughout the pitch and more ways to explore how to throw the pitch in different counts."
Bill Chastain is a reporter for MLB.com. This story was not subject to the approval of Major League Baseball or its clubs.