Royals enjoy their camping trip to Arrowhead
Royals enjoy their camping trip to Arrowhead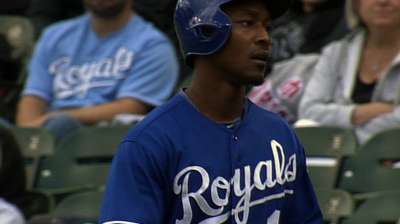 KANSAS CITY -- A group of Royals players ventured across the parking lot at Kauffman Stadium on Wednesday to visit the Kansas City Chiefs during their training camp at Arrowhead Stadium.
"It was pretty awesome for our first time going over there to watch the guys practice, watching the big boys out there," center fielder Jarrod Dyson said. "It was a really intense practice, without hitting, but they were going from drill to drill with no break."
According to Royals vice president of communications and broadcasting Mike Swanson, Dyson, Eric Hosmer, James Shields, David Lough, Mike Moustakas, Billy Butler, Aaron Crow, Louis Coleman, Greg Holland and clubhouse attendant Jake Vanoeveren made the trip. They brought a jersey to give Chiefs coach Andy Reid and the Chiefs sent back a helmet for Royals manager Ned Yost.
For Dyson, the visit brought back a memory from his high school football days where he was tackled by current Chiefs defensive lineman Jerrell Powe, who is listed at 6-foot-2, 331 pounds.
"He was pretty fast, he played nose guard and was 300 and something pounds, and ran a 4.8," Dyson said. "He made a play on me and I was pretty shocked he made the play. I went back and saw it on film, he ran straight through our center to get to me. He's pretty athletic if you ask me."
Dyson said he's hoping to create a more lasting connection with the Royals' neighbors in the Truman Sports Complex.
"We tell them all the time, 'If you want to come over, let us know,'" Dyson said. "Andy Reid did a great job of letting us go over there and review practice with them and see how things ran over there."
Dick Kaegel is a reporter for MLB.com. Kathleen Gier is an associate reporter for MLB.com. This story was not subject to the approval of Major League Baseball or its clubs.