Viciedo's slam powers Rienzo to first MLB win
Viciedo's slam powers Rienzo to first MLB win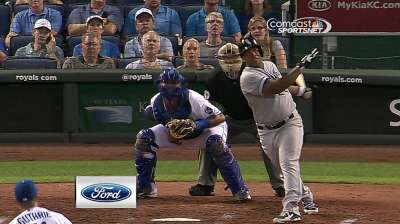 KANSAS CITY -- White Sox right-hander Andre Rienzo picked up his first Major League win on Wednesday night and the postgame cheering stretched all the way to Brazil.
Rienzo, the Brazilian who has burst onto the scene with a cluster of solid outings since being promoted from Triple-A Charlotte, finally got the elusive "W" after his teammates erupted for five runs in the fourth inning, including a Dayan Viciedo grand slam. Rienzo and the Chicago bullpen took it from there to record a 5-2 victory, giving the White Sox a season-high five-game win streak.
"It means a lot," Rienzo said. "I hope I can open doors and more guys [in Brazil] play baseball."
Rienzo worked six innings, allowing five hits and two runs. It was his fourth quality start and manager Robin Ventura appreciated the manner in which Rienzo competed.
"Just a good, gutsy job by him," Ventura said. "Any time you see a guy get his first win, it's special."
The White Sox were matched against Jeremy Guthrie, who thrived against the White Sox last year and early this season. But Chicago knocked Guthrie out early on June 20 and then took care of business on Wednesday with the five-run uprising that put the White Sox in cruise control.
Alexei Ramirez opened the fourth with a double to left and Adam Dunn put the White Sox up with an RBI single to center. Paul Konerko kept it going with a single and, after Avisail Garcia popped out, Conor Gillaspie singled to load the bases. Viciedo then unloaded his grand slam, a no-doubt blast to left-center that was estimated at 406 feet. Suddenly, it was 5-0 and Rienzo had a comfortable margin for error.
Viciedo's grand slam was the second of his career. He also had a grand slam on Oct. 1, 2012, at Cleveland.
"That was a slider that [Guthrie] got up over the middle of the plate," Royals manager Ned Yost said.
The White Sox (51-74) had other chances while racking up 13 hits, but scored only in the fourth with five hits and the five runs. The Royals (64-61) have dropped four in a row.
Dunn and Viciedo had not fared well at all against Guthrie going into the game. Dunn was 3-of-23 and Viciedo was 1-of-13 against the Kansas City right-hander.
"[Guthrie] has had our number for a long time," Dunn said. "But if you face a guy long enough, you get a pretty good idea of how to go about it. He just made a couple of mistakes and that was about it. We're hitting the ball now. Pitching hasn't been an issue for us. It has been offense."
Whereas the Royals played the role of spoiler last year against the White Sox, the roles have been reversed. By grabbing the first two games of the three-game set, Chicago has taken some sizzle from Kansas City's bid to become a serious contender for the playoffs.
Viciedo finished 3-for-4 and hit the ball hard to every field.
"The main thing is never to give up," Viciedo said through a translator. "If you keep working, things eventually start to happen."
The White Sox were particularly happy for Rienzo, who has brought an infectious enthusiasm to the club after arriving from Charlotte.
"He has pitched great," Dunn said. "Everything is quick and he's fun to play behind."
Rienzo walked three and required 101 pitches to get through six innings. But when he needed to execute a pitch in key situations, he was able to come through.
"That guy was throwing good," Royals shortstop Alcides Escobar said. "He was pitching right down in the zone, at the knees inside and outside."
When the Royals recently swept a three-game series at U.S. Cellular Field, their confidence was sky-high. Now, it's the White Sox who seem to have the answers.
"When you're struggling, you lose your emotion and that's just natural," Yost said. "It's always easier to be emotional when you're getting big hits and winning baseball games."
Robert Falkoff is a contributor to MLB.com. This story was not subject to the approval of Major League Baseball or its clubs.