Guthrie, Royals stuck on repeat against Sox
Guthrie, Royals stuck on repeat against Sox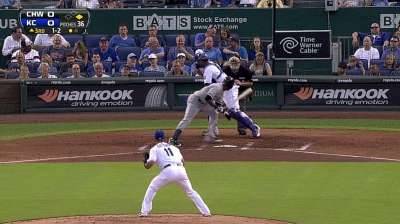 KANSAS CITY -- What are the chances of a baseball disappearing for the second straight night? What are the chances of the Royals losing to the last-place White Sox for the second straight night?
You might think neither one would be very likely. And you'd be wrong in both cases.
Another ball vanished from sight behind home plate and the Royals' playoff chances dimmed a bit more in a 5-2 loss to the Chicago tailenders on Wednesday night at Kauffman Stadium. Kansas City fell behind first-place Detroit in the American League Central by 9½ games and is 6½ games back in the Wild Card race.
After enjoying a 19-5 spurt immediately after the All-Star Game, the Royals are 2-7 since.
"It's not a tough stretch, it's just judging off [nine] games," designated hitter Billy Butler said. "We've caught some bad breaks, we haven't played our best baseball, that happens. I think every team goes through a little mini-stretch like this."
The Royals' snooze with runners in scoring position continued as they went 1-for-10 in the latest loss. Over the nine-game, 2-7 span, they're just 9-for-76 (.118) in the RISP category.
"We're just not executing. That's the main thing right now," said center fielder Jarrod Dyson. "We're getting guys on, we're just not getting them in. When you're not getting guys in, it makes it tough on a pitcher. We're not giving them any run support and our pitchers have been doing a great job trying to keep us in the ballgames. We've got to clean it up on offense."
Along with a plague of non-productive hitting, there's a sudden epidemic of disappearing baseballs. When a passed ball by Royals catcher Salvador Perez vanished behind the advertisement sign behind home plate during Tuesday night's game, it was viewed as a first-time rarity at Kauffman Stadium. But darned if it didn't happen again.
When, in the third inning with Alejandro De Aza up, Jeremy Guthrie threw a wild pitch past Perez, once again the ball hopped into the advertising sign at the same spot and disappeared. Once again, it was a dead ball and runner Dayan Viciedo, who had singled, was entitled to advance one base. Unlike Tuesday night, the White Sox didn't score on this strange reoccurrence and Guthrie ended the inning without further incident.
But Perez is getting a little spooked by the vanishing balls.
"The same thing happened yesterday," he said. "It was weird."
What happened on Tuesday night was that the ball tore the top of the mesh cloth sign commemorating Kauffman Stadium's 40th anniversary. It's suspended between two larger signs with revolving ads. Before Wednesday night's game, the tear was patched with strips of tape, but they came loose when the ball struck the exact same spot. What are the odds? Well, there was a full moon.
Somebody call the maintenance department again. There's a baseball-eating sign out of control.
"I think they're going to do something about it tomorrow. Maybe -- I don't know," Perez said. "They might put something hard behind there so the ball bounces back to me."
That was a lighter moment for the 13,083 fans, an oddity revisited. The next inning was grimmer fare for the Royals.
Three straight hits -- Alexei Ramirez's double, Adam Dunn's RBI single and Paul Konerko's single -- opened the White Sox fourth. Guthrie got an out before Conor Gillaspie's single to load the bases. Viciedo jumped on a 1-0 pitch from Guthrie and hammered a grand slam to left-center for a 5-0 lead.
That gave the White Sox a total of 11 runs in their last two games and 8 1/3 innings against Guthrie. In six games prior to that, he'd surrendered just two earned runs in 44 2/3 innings for a 0.40 ERA.
"He has had our number for a long time," Dunn said. "But if you face a guy long enough, you get a pretty good idea of how to go about it. He just made a couple of mistakes and that was about it. We're hitting the ball now."
Enough that the White Sox have won five straight games and 11 of their last 16.
The Royals were going against rookie right-hander Andre Rienzo, notable because he's only the second Brazilian to play in the Major Leagues, along with Cleveland catcher Yan Gomes. He went six innings, gave up two runs on five hits and notched his first big league victory.
It was the Royals' fourth straight loss. Their six hits were all singles. And then there's that inability to hit with runners in scoring position.
Are the Royals, with their postseason chances slipping, perhaps pressing too much?
"I don't see guys pressing," Dyson said. "I just see guys getting mad when they don't get the job done. Ain't nobody up there pressing, I don't think because everybody's got a little experience. You've got to stay focused in this game. If you press, you might as well just go home."
The Royals are down to their last 37 games. They're not ready to go home.
"You've just got to keep battling through it, keep grinding through it," said manager Ned Yost. "Obviously, the majority of our problems are offensively and you just keep grinding it because you never know when you're going to break out of it."
For his Royals, it can't be soon enough.
Dick Kaegel is a reporter for MLB.com. This story was not subject to the approval of Major League Baseball or its clubs.