Giants beat Red Sox with walk-off walk
Giants beat Red Sox with walk-off walk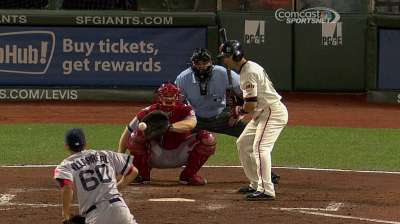 SAN FRANCISCO -- After his team's dismal loss Monday night to the Boston Red Sox, Giants manager Bruce Bochy explained what it takes to defeat the American League East leaders.
"You have to play your best ball when you're playing a club like this," Bochy said.
Well, not really.
Tuesday, the Giants went 0-for-10 with runners in scoring position and nearly let the Red Sox establish control in the first inning. But last year's World Series champions received stubborn pitching and scrounged up enough offense to prevail, 3-2, on Marco Scutaro's bases-loaded walk in the ninth inning.
This time, Bochy's postgame remarks differed from the grim message he issued following the one-sided series opener.
"You take it any way you can get it," Bochy said, "and this was a good one."
Roger Kieschnick launched the winning rally off left-hander Franklin Morales (2-1) with one out and the score even at 2 by stroking his career-high third single of the evening. After Joaquin Arias flied out, Morales loaded the bases by putting two pinch-hitters aboard. Andres Torres fell behind on the count, 1-2, but still drew a walk. Then Hector Sanchez was hit by a pitch.
With the right-handed-batting Scutaro due up, right-hander Brayan Villarreal relieved Morales but maintained the pattern of erratic pitching. Villarreal missed the strike zone with four consecutive pitches, pushing Kieschnick across to give the Giants their ninth walk-off victory of the season and first since June 22 against Miami.
Scutaro said hitting coach Hensley Meulens alerted him about Villarreal's erratic control. In his only previous Major League experience this season, with Detroit, Villarreal walked eight batters in only 4 1/3 innings spanning seven appearances.
Thus, Scutaro said, "I wanted to make sure I hit my pitch and not be too aggressive."
Scutaro also helped the Giants erase a 2-1 deficit in the eighth inning. He singled with one out off right-hander Junichi Tazawa and went to third on Brandon Belt's third hit of the game, a single that landed near the left-field line. Up came Buster Posey, who struck out in his first at-bat and grounded out with teammates in scoring position in his next two plate appearances. This time the National League's reigning Most Valuable Player lifted a sacrifice fly, scoring Scutaro.
Since Boston's Shane Victorino caught Posey's fly in foul ground, he had the option of letting the ball drop intentionally in hopes that Tazawa could generate a better result on a subsequent pitch. But that strategy never entered Victorino's mind.
"Different situation, 3-2 count, bases loaded, yeah, I might think about that," said Victorino, a three-time Gold Glove winner for defensive excellence. "... But I think in that situation, for me, I was not thinking about that. I was thinking about getting there, making the play and getting the best throw I could get off."
Earlier, the Giants squandered scoring chances with runners on third base and nobody out in the fourth and fifth innings and after having a man on second with none out in the sixth.
Even when the Giants generated offense, they couldn't sustain it. San Francisco ended its streak of 21 consecutive scoreless innings at home when Kieschnick singled and Arias tripled to open the fifth. But Arias didn't budge as Ryan Vogelsong, Gregor Blanco and Scutaro all grounded out. The Giants are hitless in 15 at-bats with runners in scoring position during this Interleague series.
Nevertheless, the Giants could revel in some positive developments.
Vogelsong pitched admirably, yielding two runs and six hits in seven innings. It was the right-hander's third start and longest outing since recovering from a fractured throwing hand.
Under duress in the first inning, Vogelsong limited the Red Sox to a single run on Mike Carp's sacrifice fly with the bases filled and nobody out. Boston re-loaded the bases on Will Middlebrooks' infield single, but Vogelsong persevered by coaxing Daniel Nava's fly to shallow left field and Xander Bogaerts' groundout.
"He really won the game in the first inning," Bochy said.
Said Vogelsong, "It could have been really ugly, but I knew I was OK." The right-hander still lacked his peak velocity, but compensated by commanding his offspeed pitches.
"The way he was throwing was the way he threw last year," Scutaro said of Vogelsong, the Giants' leading winner during the postseason. "He was painting the corners and mixing his pitches. He was very good tonight."
So was Kieschnick, who may have strengthened his case for playing time in left field with his personal-best performance. Significantly, the left-handed-batting Kieschnick collected his ninth-inning single off Morales, a lefty. It also may have been more than coincidental that Kieschnick thrived on the same day that the Giants designated veteran Jeff Francoeur for assignment, which trimmed the size of the left-field contingent.
Chris Haft is a reporter for MLB.com. This story was not subject to the approval of Major League Baseball or its clubs.