Buchholz expected to pitch in Minors on Sunday
Buchholz expected to pitch in Minors on Sunday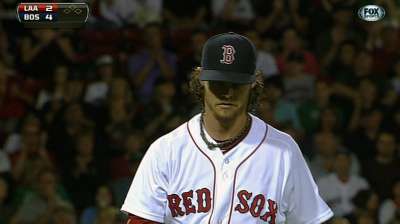 SAN FRANCISCO -- Red Sox ace Clay Buchholz is finally in the home stretch of his prolonged return from a right bursa sac strain and will likely start a Minor League rehab assignment Sunday.
That was the positive development that came out of Buchholz throwing three simulated innings Tuesday against teammates Mike Napoli, Xander Bogaerts and David Ross.
"It was good," said Buchholz. "Obviously, with guys in the box taking swings off you, you don't just want to lay it up there. That's why the intensity was up from even the bullpens I've been throwing."
Buchholz will throw a bullpen session Friday at Dodger Stadium and if there are no setbacks, all systems will be go for Sunday.
In a perfect world, Buchholz would pitch in three Minor League games before pitching for the Red Sox.
For that to work out, one of Boston's Minor League affiliates would have to make the postseason. Most Minor League seasons end Sept. 2.
However, if Buchholz can only start twice in the Minors, it wouldn't be a big deal because rosters are expanded Sept. 1 and his first start back with Boston could be an abbreviated one.
"Because we are in September, it's not like we're restricted by a pitch count," manager John Farrell said. "So if that third one is a progression at the Major League level, we could use that as well."
No matter what, Buchholz should be back with the Red Sox around the first week of September and in position to make roughly four starts before the regular season ends.
Considering what the righty meant to the team before his injury, going 9-0 with a 1.72 ERA in 12 starts, his impact could be sizable down the stretch.
"Yeah, I mean, it's obviously taken a lot longer than I wanted it to or expected it to," said Buchholz. "But if everything keeps going as everybody wants it to go, the body is going to be well-rested for an opportunity to help these guys and our team make a push here towards the end of the season and get to that postseason."
Ian Browne is a reporter for MLB.com. Read his blog, Brownie Points, and follow him on Twitter @IanMBrowne. This story was not subject to the approval of Major League Baseball or its clubs.