Papi sits out vs. Giants; Carp starts at first base
Papi sits out vs. Giants; Carp starts at first base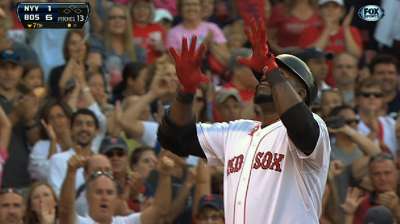 SAN FRANCISCO -- After playing defense for the first time in nearly two months Monday night, David Ortiz got to rest Tuesday.
Mike Carp made the start at first base with Mike Napoli out of the lineup for a fourth straight game.
Napoli has been dealing with plantar fasciitis in his left foot, but manager John Farrell indicated that Tuesday's decision had more to do with the fact righty Ryan Vogelsong was pitching for the Giants.
"Wanted a left-handed hitter," Farrell said before Tuesday's game. "And Mike going through early work today, he feels improved. He'll be available for defense late tonight and possibly a pinch-hit. They've made a starting pitching change tomorrow with [lefty Barry] Zito going against us, so he's certainly a possibility tomorrow as well."
Napoli entered the game as part of a double-switch in the eighth, then grounded out in the ninth. If he returns Wednesday to face Zito, Ortiz would have back-to-back days out of the starting lineup for the first time this season. With the Red Sox not playing Thursday, that could give Farrell the rare opportunity to give Ortiz an extended rest heading into Friday's three-game series against the Dodgers.
Ian Browne is a reporter for MLB.com. Read his blog, Brownie Points, and follow him on Twitter @IanMBrowne. This story was not subject to the approval of Major League Baseball or its clubs.