Tigers option Coke to Triple-A; recall Alvarez
Tigers option Coke to Triple-A; recall Alvarez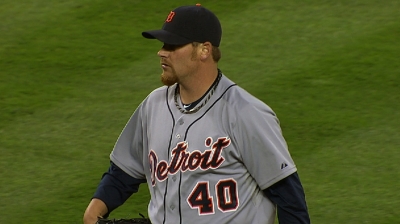 DETROIT -- Throughout this season, the Tigers have tried to find the best way to help Phil Coke regain his dominance from last year's playoffs. The team's newest plan is to send him down to Triple-A Toledo until rosters expand on Sept. 1.
After Tuesday's loss to the Twins, Detroit optioned Coke to Toledo and recalled left-hander Jose Alvarez to fill the void in the bullpen. Coke will still be eligible for the playoff roster.
"I'm not happy. I don't know who would be," Coke said. "I've been in the big leagues for five years and I'm being sent down to work on things, and understandably so. I haven't been doing the job that has been handed to me, per my past performances. I can't fault them for the decision that was made."
After being a part of the Tigers closer-by-committee plan in April, Coke has primarily been used in lefty-versus-lefty situations since the All-Star break. In the first half of the season, Coke had an 0-5 record with a 5.83 ERA in 29 1/3 innings. After moving to a situational role in the second half, he has a 1.35 ERA in 6 2/3 innings while striking out six and walking none.
"I figured it would've happened in the first half, not right now, especially since the velocity's been back," Coke said. "I've gotten a lot of key outs recently. I've been on a decent run, no earned runs. I mean, I've given up three or four inherited [runs]. Sometimes those things happen, but right now it's not something we can afford as a team."
Despite being successful in his new role, Coke wasn't comfortable with it.
"It's not something that I'm really happy about -- no matter what I was doing on the field," Coke said. "Whether I was dominating, if I was out there for one guy, it was really annoying because of being a competitor. I mean, you want to go out there and you want to do everything you can."
The Tigers want Coke to work on his command at Toledo and emphasized that he has been pitching better lately and will be back with the team in two weeks.
"The key is to go down there and really try to accomplish what we're trying to accomplish, by making good pitches," manager Jim Leyland said. "He's going to be back here. He's very much a part of our team. This is an opportunity to go down and see what he does, and also maybe an opportunity to look at Alvarez out of the bullpen and see what he looks like against a left-hander."
Alvarez has made five spot starts for the Tigers this season, but he has struggled the second time through the lineup. At Toledo, lefties were batting .164 against him in 110 at-bats, while he struck out 32 and walked four.
"He's using his changeup a lot against righties and lefties, and he has a plus changeup," catcher Brayan Pena said. "He's a guy who throws a lot of strikes. He's a guy who keeps you in the ballgame. He's a guy who will give you a lot of innings. He can use those offspeed [pitches] against righties and lefties, and I think he's going to be very good for us."
Bobby Nightengale is an associate reporter for MLB.com. This story was not subject to the approval of Major League Baseball or its clubs.