Bogaerts goes hitless in Major League debut
Bogaerts goes hitless in Major League debut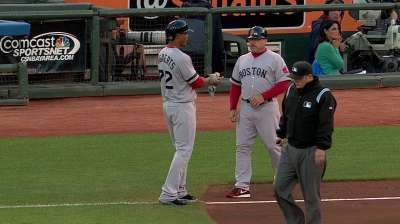 SAN FRANCISCO -- After taking Monday to fully absorb his first day in the Major Leagues, Xander Bogaerts got to play Tuesday against the Giants.
The highly touted shortstop -- ranked as the sixth-best prospect by MLB.com -- batted seventh and went 0-for-3 before being removed for a double-switch during the bottom of the sixth inning.
His highlight of the night was a solid play on defense. Marco Scutaro hit a slow roller with two outs in the bottom of the fifth and Bogaerts charged and made a strong throw to end the inning, getting starter Jake Peavy out of a jam.
"Oh man, definitely a big play to make game stay at 2-1, so big play on my part," said Bogaerts. "I was just trying to get an out. I just had to get an out. I saw him dive; it was a pretty close play but I think I had him, though."
The Red Sox wound up losing, 3-2, on a walk-off walk by Scutaro in the bottom of the ninth.
Bogaerts came close to getting his first Major League hit in his first at-bat. He came up with the bases loaded and two outs in the first, but his hard grounder was deflected by pitcher Ryan Vogelsong, and Scutaro fielded it and fired to first for the out.
"I can't describe it -- it's definitely something I've been waiting my whole career for," Bogaerts said. "I thought when I hit that ball it would probably pass through."
Bogaerts spent some of his pregame time Tuesday going over defensive strategy with infield instructor Brian Butterfield and catcher David Ross. He noted the extra preparation that comes with facing an opponent at the Major League level.
"I'm liking it so far," Bogaerts said.
The case can be made that there has been more anticipation for the arrival of Bogaerts than any Red Sox position player since Nomar Garciaparra. That made Tuesday an exciting night.
Unfortunately, it wound up as a loss for the Red Sox.
"X did a tremendous job out there tonight," said Peavy. "He acted like he belonged. He had some good at-bats. That ball was very close to going up the middle in his first at-bat, and that'd have been a huge lift and the ballgame would have swung differently if that ball doesn't hit off Vogelsong. But X, he's going to be fine. Great player."
Ian Browne is a reporter for MLB.com. Read his blog, Brownie Points, and follow him on Twitter @IanMBrowne. This story was not subject to the approval of Major League Baseball or its clubs.