Giants bring back Kickham, Machi to bolster bullpen
Giants bring back Kickham, Machi to bolster bullpen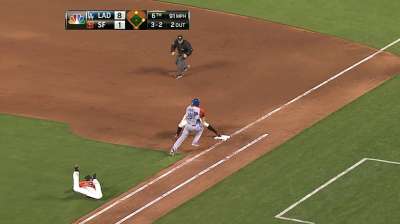 SAN FRANCISCO -- The Giants needed pitching help more than they needed outfielder Jeff Francoeur, prompting Tuesday's flurry of roster moves.
San Francisco recalled left-hander Mike Kickham and right-hander Jean Machi from Triple-A Fresno, who began their fourth and fifth Major League stints of the season, respectively. The corresponding moves involved right-hander Chad Gaudin, who went on the 15-day disabled list with carpal tunnel, and Francoeur, who was designated for assignment.
Gaudin's sudden ailment and another rash of bullpen overuse not only led the Giants to bring back Kickham and Machi, but also resulted in a fresh opportunity to start for Barry Zito. The left-hander will face Boston in Wednesday's series finale.
Though Wednesday would have been Kickham's regular day to start, Giants manager Bruce Bochy kept his promise to give Zito another chance. Zito was removed from the rotation Aug. 2, after his record fell to 4-8 with a 5.09 ERA. Since then, Zito allowed six runs in five innings spanning four relief appearances. But he improved in his last two outings, allowing a run in three innings.
"He went to the 'pen and I think he earned this," Bochy said when asked why he selected Zito to start instead of Kickham. "He's a guy who's done a lot for us, if you look at last year. I now it's been an up-and-down year for him, but his stuff, coming out of the 'pen, I think has gotten better."
Kickham was exclusively a starter at Fresno but will be used in long relief at least temporarily. Machi already has made 33 appearances for the Giants, posting a 2-1 record with a 3.34 ERA. Bochy indicated that Jake Dunning and George Kontos also were considered for a promotion, but explained that Machi was the freshest among Fresno's right-handed relief contingent.
Bochy added that Francoeur was crowded out by more than just the pitching additions. Another factor was the impending return of center fielder Angel Pagan, who will advance Friday from the Rookie-level Arizona League to Fresno in his injury rehabilitation assignment. Bochy also noted that the club wants to use its younger outfielders more extensively. Though Bochy declined to name whom he'd like to see more of, the Giants have had Roger Kieschnick and Brett Pill spending considerable time on the bench.
Francoeur, 29, never showed a hint of the prowess he displayed in 2005 with Atlanta, when he finished third in National League Rookie of the Year balloting, or in the next two seasons, when he averaged 24 home runs and 104 RBIs, or even two years ago with Kansas City, when he appeared to revive his career by hitting .285 with 47 doubles and 20 homers. Signed to a Minor League contract after Kansas City released him in July, Francoeur proceeded to hit .194 (12-for-62) in 24 games with no homers and four RBIs.
"We appreciate all he did for us and the fact that he signed with us. He was great," Bochy said of the genial veteran. "In the clubhouse, he had a lot of life. Guys enjoyed being around him. I did. But we just felt like we needed another arm."
Chris Haft is a reporter for MLB.com. This story was not subject to the approval of Major League Baseball or its clubs.