Carpal tunnel sends Gaudin to disabled list
Carpal tunnel sends Gaudin to disabled list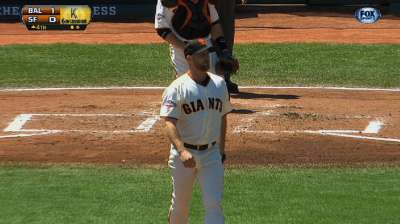 SAN FRANCISCO -- The diligence that enhanced Chad Gaudin's effectiveness as a pitcher might have contributed to the ailment that sidelined him.
Gaudin went on the 15-day disabled list Tuesday after being diagnosed with carpal tunnel on his right side. Gaudin, whose examination of opponents includes taking copious notes and scrutinizing videos on laptops, admitted that his homework habits may have been a factor in his illness.
"He does a lot of writing, I know that," Giants manager Bruce Bochy said.
Gaudin also cited his transition from relieving to starting, exercising his arm and being hit on his arm by a line drive in a game against Miami on June 20.
"It's not pain, it's not numbness. ... It's lack of control," said Gaudin, who began noticing something amiss almost a month ago. "It didn't feel right. It wasn't able to calm down."
Gaudin, who signed with the Giants in the offseason as a Minor League free agent, emerged as one of the club's most essential pitchers this year. He thrived in relief, then excelled as a starter upon replacing the injured Ryan Vogelsong in San Francisco's rotation. Overall, Gaudin is 5-2 with a 3.06 ERA in 30 appearances, including 12 starts.
Bochy expressed hope that Gaudin, 30, can resume pitching in a couple of weeks. Gaudin himself fully expects to pitch again this season.
"You want to get it calmed down, but at the same time you want to get back out there," he said.
Chris Haft is a reporter for MLB.com. This story was not subject to the approval of Major League Baseball or its clubs.