Mariners relying on rookies in the bullpen
Mariners relying on rookies in the bullpen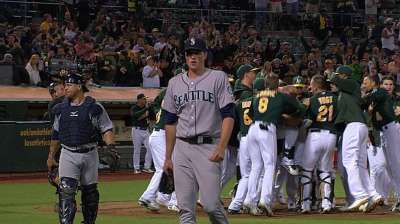 OAKLAND -- Let's just say this isn't the bullpen Seattle expected to have at the start of the season.
The Mariners' Opening Day closer, Tom Wilhelmsen, was demoted to the Minor Leagues on Aug. 6 because of ineffectiveness, and the club has since turned to Danny Farquhar, a rookie, to help solidify the ninth-inning role.
"We didn't really anticipate having four right-handed rookies in the bullpen right now, one of them being your setup man and one is your closer," active manager Robby Thompson said. "That's not really how we thought we'd be looking at it right now, but those are the things that happen.
"You don't know in this game what changes you're going to be faced with, whether it be in the bullpen, starting pitching or, for that matter, position players."
One of those rookies is Carter Capps who served up Monday's walk-off home run to Oakland's Brandon Moss, though Thompson said the homer was more of a testament to Moss' abilities than a mistake by Capps.
"That's a spot that he really can handle," Thompson said of Moss. "When he did hit it, I think he made a comment in the paper about it that he wasn't quite sure that it was going to get out. The ball doesn't carry very well at night. When he hit it, I think we were a little bit surprised that it did get out, but he back spun it and the ball continued to carry and [center fielder Dustin] Ackley ran out of room."
Farquhar, meanwhile, has converted seven of eight save opportunities since moving in the closer's role. He ranks fifth among American League relievers with 13.39 strikeouts per nine innings, and earlier in the month had 14 2/3-inning scoreless streak.
Thompson said the team still hopes Wilhelmsen can earn a trip back to Seattle. Wilhelmsen converted 11 consecutive saves with a 0.41 ERA through the first seven weeks of the season before a rough stretch led to his demotion to Triple-A Tacoma.
"He understands what he's got to do and he's working on doing that," Thompson said. "We sure hope to have him in September, if not sooner."
Jeff Kirshman is an associate reporter for MLB.com. This story was not subject to the approval of Major League Baseball or its clubs.