Marlins rally to tie, but fall on Puig's late homer
Marlins rally to tie, but fall on Puig's late homer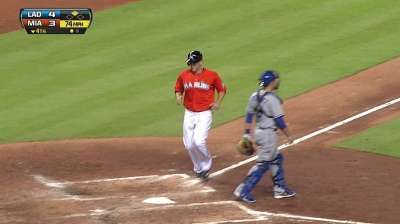 MIAMI -- The matchup may not have had the anticipation of the night before, but Yasiel Puig continued to show why he is a game-changer.
Entering the game in a double switch in the sixth inning, Puig made the first pitch of his first plate appearance in the eighth inning count. The rookie connected on a towering home run that snapped a tie and lifted the Dodgers to a 6-4 win over the Marlins on Tuesday night in front of 25,690 at Marlins Park.
The Cuban-born outfielder had gone hitless in five at-bats with two strikeouts on Monday night, when the game featured Puig against Miami's rookie sensation Jose Fernandez.
Fernandez made his case for being National League Rookie of the Year with his impressive eight-strikeout effort on Monday. On Tuesday, it was Puig's turn to remind everyone he is clearly a front-runner to win top rookie honors.
"I'd like to have a guy like that coming off the bench," Marlins manager Mike Redmond said. "He's a great player. He's had a great year. I didn't see that pitch. I think it kind of leaked back over the middle on him. Still, when you haven't taken a swing all night and your first swing is a home run, that's probably a little different level."
With the game even in the eighth inning, Puig led off facing lefty Dan Jennings, who had not allowed a home run in 30 innings of relief.
Something had to give. It did, in favor of Puig.
Jennings' first pitch was a 90-mph fastball that Puig jumped on and lifted over the wall in left-center. The blast, the rookie's 12th of the season, snapped the Dodgers' two-game slide and prevented Miami from winning three straight.
In spacious Marlins Park, it was clear Puig drove the ball high and deep. To Miami left fielder Christian Yelich, he wasn't sure it had the distance. Yelich made a nice effort, racing to the wall and leaping. But he heard the sound of wood clank just over the fence.
"He hit it up there pretty high," Yelich said. "I was just trying to get to the back of the fence as fast as I could, to see if it was going to stay in or not. The fence is kind of high, so you can't really climb it.
"I knew it was going to have a chance to go out. I just knew I had to get back there and go from there. I heard it hit the top when I jumped. I don't know how close I got to it, but I got pretty close."
The night was all about near misses for Miami.
Los Angeles added an insurance run in the ninth when Hanley Ramirez, who doubled off Ryan Webb, scored on Tim Federowicz's infield single on a ball that third baseman Ed Lucas didn't get cleanly out of his glove.
The Dodgers used their breaks, plus a 16-hit attack -- and Puig's homer -- to cash in after the Marlins squandered a first-and-second, no-out situation in the seventh inning. Lucas, unable to execute a sacrifice bunt, bounced into a 5-4-3 double play, which foiled Miami's chance of claiming the lead.
"We've talked about it all year," Redmond said. "We aren't a team who can make a lot of mistakes and still win ballgames. We have to play a pretty clean ballgame to win. If we make mistakes, fundamental mistakes, we usually pay the price. It seems like our margin for error is just very tiny.
"You saw that today. Against a great team, we've got to play a great ballgame. We made a couple of mistakes, and they took advantage. They end up winning the ballgame."
Marlins right-hander Jacob Turner minimized damage over five innings in which he was hurt by five walks. The right-hander, who last won on July 10 against the Braves, gave up four runs (three earned).
Dodgers lefty Chris Capuano also wasn't involved in the decision, allowing three runs on six hits in five innings.
Miami battled back from three runs down, and tied it at 4 in the sixth inning on Jeff Mathis' RBI single off reliever Brandon League.
The Dodgers threatened early off Turner, but the right-hander was able to keep them off the board for three innings.
In the fourth inning, Los Angeles broke through with four runs, with the turning point being a walk to the pitcher.
Nine batters came to the plate in the big inning, and the pivotal moment came when Turner walked Capuano after Federowicz was intentionally walked. Carl Crawford collected an RBI with an infield single. Mark Ellis added a run-scoring infield single, and a second run came home on Adeiny Hechavarria's throwing error after he made a nice stop up the middle. Adrian Gonzalez capped the scoring with an RBI single to right.
"That's obviously really frustrating in that situation," Turner said of walking Capuano. "You walk the eight-hole guy to bring up the pitcher. Ninety-nine percent of the time, if you throw strikes in that situation, he gets himself out. But I wasn't able to do it, and it just snowballed from there."
The Marlins manufactured a run in the first inning on Yelich's double and Giancarlo Stanton's RBI groundout to second.
The Marlins chipped back with two runs in the fourth inning to close the game to 4-3. Stanton and Logan Morrison each singled, putting runners on the corners, and Lucas walked to load the bases. Stanton scored on Justin Ruggiano's fielder's choice grounder to third. Hechavarria added a run-scoring single.
"They've been playing .500-ball for the last couple months of the season," Capuano said of the Marlins. "They are scrappy. It's the big leagues and you can't take anybody lightly. They're playing hard. They aren't giving away at-bats."
Joe Frisaro is a reporter for MLB.com. He writes a blog, called The Fish Pond. Follow him on Twitter @JoeFrisaro. This story was not subject to the approval of Major League Baseball or its clubs.