Elite defender Brantley sets Indians' error-free streak
Elite defender Brantley sets Indians' error-free streak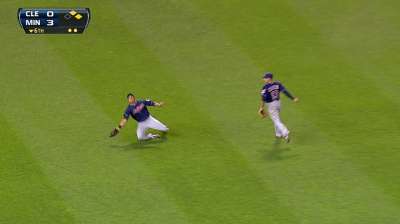 ANAHEIM -- Not all error-free streaks are created equal. When it comes to the club-record run that Indians left fielder Michael Brantley carried into Tuesday's game against the Angels, the numbers do support his skill as a defender.
With another clean night at the office on Monday, Brantley chalked up his 213th consecutive game without an error for Cleveland. That broke Rocky Colavito's franchise mark of 212 games for an Indians outfielder -- established in two stints with the Tribe between the 1959-66 seasons.
"You can have a streak like that and it's not as meaningful," Indians manager Terry Francona said. "I'm not talking about Brantley, because he's a guy that makes all the throws. That's why it makes it more impressive. There's guys that don't make errors that don't make plays. He goes in the corner, he goes in the alley, he makes throws.
"He's just very consistent and he never takes a play off. He's a talented outfielder, but he never takes a play off. He thinks ahead. He throws to the right base, and he's very accurate. He's just a real solid player."
Brantley also entered Tuesday tied with Kansas City's Alex Gordon for the most assists (10) among American League left fielders. Brantley's 10 assists this season are the most in one season by a Cleveland left fielder since Albert Belle had 11 in 1996.
Asked about Brantley's defensive ability, Indians third-base coach Brad Mills, who also coaches the team's outfielders, simply pointed to the errorless streak.
"That probably speaks for itself," Mills said. "The first thing that stands out is he's so consistent. Our whole outfield is absolutely outstanding this year with [Drew] Stubbs in right, [Michael] Bourn in center and Michael. I think they each help one another so well. They cover so much ground together."
Jordan Bastian is a reporter for MLB.com. Read his blog, Major League Bastian, and follow him on Twitter @MLBastian. This story was not subject to the approval of Major League Baseball or its clubs.