Puig homers off bench to deliver win for LA
Puig homers off bench to deliver win for LA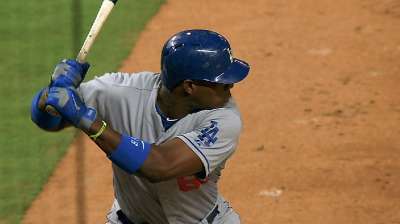 MIAMI -- Slumping and fined, benched and tardy, Yasiel Puig still can't help but be amazing.
The Cuban rookie sensation, left out of the starting lineup because of a cold bat and then fined for showing up late, led off the eighth inning with a tie-breaking home run that lifted the Dodgers to a 6-4 win over the Marlins on Tuesday night, stopping a two-game losing streak.
Puig entered the game on defense in a sixth-inning double switch. Manager Don Mattingly left Puig out of the lineup, saying he needed the rest. Mattingly made that decision before Puig showed up at Marlins Park roughly 30 minutes late, for which Mattingly said he fined the rookie.
But Puig has a flair for the dramatic as well as the drama. He jumped on the first pitch he saw in the eighth inning from Miami reliever Dan Jennings with a blast that hit the top of the fence in left-center and bounced over, his first homer since Aug. 1 and 12th of the season after going hitless in his previous 11 at-bats.
Some of Puig's teammates aren't thrilled with his steady stream of rookie mistakes -- reckless baserunning, overthrowing cutoffs, not to mention a disregard for customary rookie etiquette off the field. But there's no dissent about his ability to impact a game, which is why starting pitcher Chris Capuano said he wasn't surprised that Puig would win a game on a day he was surrounded by controversy.
"We're always expecting something great, he's got so much ability," said Capuano. "He doesn't seem to feel like there's too much pressure out there."
And that's exactly how Puig explained his success, which came in front of family and friends at Marlins Park in Miami's Little Havana. Puig, who has a home in Miami, received a warm ovation when he entered the game and a louder ovation when his home run bounced off the top of and over the fence to break a 4-4 tie.
"I don't feel pressure," Puig said when asked if he likes the spotlight. "I always give my best. I know the pitcher tries to throw his best, but I don't feel pressure. I don't feel pressure from the fans in L.A., and it's a bigger stadium and there's more of them. If I don't feel pressure in L.A., I don't feel it here."
Mike Redmond, Miami's manager, wished Puig felt a little more pressure.
"I'd like to have a guy like that coming off the bench," Redmond said. "He's a great player. He's had a great year. I didn't see that pitch. I think it kind of leaked back over the middle on him. Still, when you haven't taken a swing all night and your first swing is a home run, that's probably a little different level."
The Dodgers added an insurance run in the ninth inning when the Marlins bungled a pair of ground balls. Kenley Jansen wrapped things up with a perfect ninth inning for his 13th consecutive save, the last of six relievers Mattingly used over the final four innings.
The high-wire act was performed by Chris Withrow, who got the win. He arrived with two outs in the bottom of the sixth and the bases loaded, the Marlins having just tied the game at 4, and he struck out Donovan Solano. He came back for the seventh, allowed a single to Giancarlo Stanton (who homered off him the night before), another single to Logan Morrison, then got Ed Lucas on a double-play grounder and struck out former Dodgers farmhand Justin Ruggiano.
"His strikeout of Solano was huge," said Mattingly.
The Dodgers had to overcome hitting into four double plays and stranding 12 runners. They did it with a 16-hit attack, three from Adrian Gonzalez, at least one from all eight starting position players.
But opposing starting pitcher Jacob Turner said it was his two-out walk of Capuano in the fourth inning that opened the floodgates to a four-run rally.
"You walk the eight-hole guy [Tim Federowicz, intentionally] to bring up the pitcher," said Turner. "Ninty-nine percent of the time, if you throw strikes in that situation, he gets himself out. But I wasn't able to do it, and it just snowballed from there."
Carl Crawford, Mark Ellis and Gonzalez then strung RBI singles, shortstop Adeiny Hechavarria throwing away Ellis' as two runs scored, but the Marlins scored twice in the bottom of the inning off Capuano and tied the game in the sixth off Brandon League.
Ken Gurnick is a reporter for MLB.com. This story was not subject to the approval of Major League Baseball or its clubs.