Giambi provides significant support on and off field
Giambi provides significant support on and off field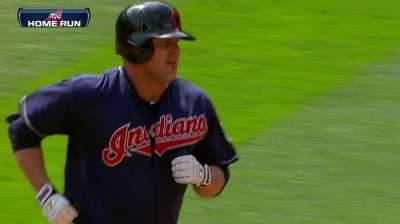 ANAHEIM -- Indians manager Terry Francona has spent the past six months praising veteran Jason Giambi for what he brings to the team on and off the field. Francona is still not sure he has made his point emphatically enough.
So, Francona reiterated his appreciation for Giambi again on Tuesday.
"Giambi is a huge part of what we're doing," Francona said. "I try to say it, but I don't know if people fully understand just what he does mean for a ballclub. He's unbelievable. Ive never been around somebody that has the presence that he has."
"I've gone to him more times than is fair, asking his advice or helping with something. He's always there. It's tremendous. It's actually better than having another coach, because he's a player. When players deliver the right message, it goes a long way."
Entering Tuesday's game against the Angels, the 42-year-old Giambi was batting just .188 in 56 games this season, but he had eight home runs and 29 RBIs in 154 at-bats. With runners in scoring position, the aging slugger had posted a .949 OPS for Cleveland.
In Monday's 5-2 win over Los Angeles, Giambi finished 1-for-3 with a double and a sacrifice fly for the Tribe. Following his double in the sixth inning, his Indians teammates could be seen reacting with excitement in the visitors' dugout at Angel Stadium.
"That's what I mean," Francona said. "That doesn't happen for everybody. You guys can't see the dugout or hear it all the time, but if he makes an out, if he doesn't drive a guy in, he'll collect himself, he'll sit down and he is screaming for the next guy. That's a 42-year-old man.
"He had a ball playing the game [Monday] night. That's the way it's supposed to be. That's why he's still playing."
Francona was asked if Giambi might go for a 20th big league season in 2014.
"I think so. I don't blame him," Francona said. "I think he said something about wanting to play until they tear [his uniform] off. Good for him. I'd love to have him back here. He knows that."
When Giambi does hang it up as a player, perhaps Francona would consider him for a coaching job.
"He might be the manager," Francona said with a laugh. "I might be coaching for him."
Jordan Bastian is a reporter for MLB.com. Read his blog, Major League Bastian, and follow him on Twitter @MLBastian. This story was not subject to the approval of Major League Baseball or its clubs.