Gyorko's blast lone spark for sluggish Padres
Gyorko's blast lone spark for sluggish Padres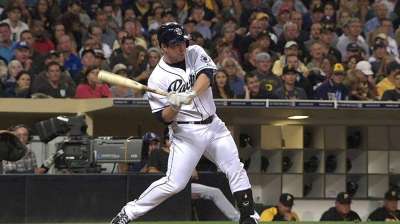 SAN DIEGO -- The Padres envision a very bright future for 26-year-old right-hander Tyson Ross. But even Cy Young himself would have had trouble sustaining the pace Ross had set since rejoining the starting rotation on July 23.
After posting 36 strikeouts and a 1.32 ERA in five starts, Ross finally came down to earth on Tuesday night at Petco Park. He didn't get any help from a slumping San Diego offense either, and the Padres fell to the Pirates, 8-1.
"The expectation level with Tyson may be a little bit unfair here, early on, with where he's been," Padres manager Bud Black said. "Not his best command of the fastball, not his best slider, but he ended up getting us into the seventh inning."
Every pitcher has hiccups, and Ross certainly had one on Tuesday, allowing five runs (four earned) on six hits. Still, both Black and catcher Nick Hundley were quick to point out that even without his usual stuff, Ross kept his club in the game for 6 1/3 innings.
"He was behind in a lot of counts, but he didn't give in," Hundley said. "He had to work really hard. You've got to be proud of him with the way he went out and battled. You're more proud of him today than when he goes out and dominates."
Ross exited in the top of the seventh with the Padres trailing, 3-1, and runners on second and third. That's when the floodgates opened.
National League MVP-candidate Andrew McCutchen roped a two-run triple to right off right-hander Dale Thayer, who had replaced Ross. The Pirates would score three more in the frame on another three-bagger -- this time off the bat of Josh Harrison.
The way Pirates starter A.J. Burnett was pitching, that was more than enough. Burnett shut down the Friars' offense for seven solid innings, as the Padres' bats mustered just one run for the second straight night against the Bucs.
"We are scuffling swinging the bats," Black said, "but Burnett -- being the veteran pitcher that he is with an assortment of breaking balls -- the fastball was better than expected, for me."
The lone bright spot offensively for the Padres came in the bottom of the fourth when Jedd Gyorko stung a solo homer to left, cutting the Padres' deficit to two.
It was Gyorko's 14th homer of the season, and although the on-base percentage (.299) isn't where the Padres would like it to be, the rookie second baseman has certainly showed some pop, raising his slugging percentage to .436, the third highest on the team.
"He got a ball up in the strike zone and put a good swing on it," Black said. "We've seen that from Jedd. When he connects, there's some slugging percentage in there -- whether it's a double or a homer. That was good to see."
The Pirates jumped on Ross right away when Neil Walker -- the game's second batter -- crushed a 3-1 fastball over the center-field wall. They added a second run in the frame on Russell Martin's RBI double.
In the third inning, Pittsburgh cleanup man Pedro Alvarez extended that lead to 3-0 when he tripled home Walker. Ross had hit Walker in the leg with the second pitch of the inning.
"It's really just coming down to executing pitches," Ross said. "When you're missing with the fastball, it makes it tough to pitch. But I've got five days to work on it, and hopefully I'll come out better."
From there, Ross strayed a bit from his fastball, using the slider and changeup to get through the next three innings unscathed. Black gushed over Ross' ability to grind through an outing -- noting that doing so is vital for any pitcher to sustain success in the big leagues.
"He hung in there," Black said. "He pitched without his best command or his best stuff, so that's a great sign."
Burnett, on the other hand, had his best stuff, and he pounded the strike zone all night.
"First-pitch strikes put him in a good place," said Pirates manager Clint Hurdle. "The swing-and-miss breaking ball was there, his change was in play -- gave them another look tonight. Very good outing for him."
After a perfect first two innings, Burnett allowed the Padres to load the bases in the bottom of the third -- even though they didn't hit a ball out of the infield. But Yonder Alonso struck out to end the threat, and the Padres wouldn't put another runner in scoring position until the eighth.
AJ Cassavell is a reporter for MLB.com. Follow him on Twitter @ajcassavell. This story was not subject to the approval of Major League Baseball or its clubs.