Maybin about two weeks from resuming activity
Maybin about two weeks from resuming activity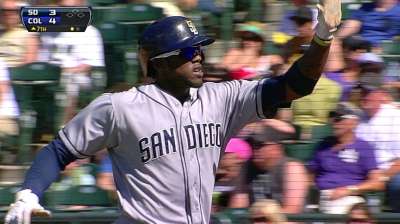 SAN DIEGO -- The clock is ticking on Cameron Maybin's potential return from the strained PCL in his left knee that landed him on the disabled list June 12.
The Padres center fielder is back in San Diego this week and will get a second opinion on the injury after being evaluated by team doctors on Monday.
Manager Bud Black said there likely won't be another update on Maybin until early September.
"Here in the short term -- short term meaning two weeks -- no baseball activities," Black said. "He's going to remain inside, get his treatment, stay off the knee, let it quiet down, and then we'll see where we are in a couple weeks."
After averaging 142 games for the Padres in 2011 and '12, Maybin has played in just 14 this season. He incurred a wrist injury in mid-April that kept him out until June, when he played just four games before injuring the knee. In 51 at-bats this season, Maybin is hitting .157.
AJ Cassavell is a reporter for MLB.com. Follow him on Twitter @ajcassavell. This story was not subject to the approval of Major League Baseball or its clubs.