Blanks approaching rehab stint at Triple-A
Blanks approaching rehab stint at Triple-A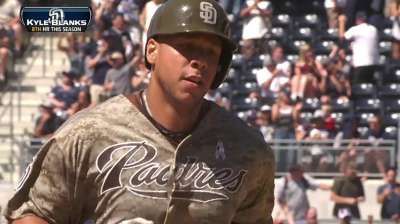 SAN DIEGO -- Padres manager Bud Black still won't rule out a weekend trip for Kyle Blanks to Triple-A Tucson. But a more realistic projection for the injured outfielder to begin his rehab assignment is early next week.
The Padres received some good news on Blanks, who tested his injured Achilles on Monday and felt no pain afterward -- only a bit of expected soreness.
"The test isn't necessarily the day of, but it's the day after and the days following," Blanks said. "Today I feel fine. I'm ready to get going again."
Blanks said he'd like to be playing in games in five to seven days. If he returns next Monday in Tucson, he'd probably have a maximum of a week of rehab. (The Triple-A Padres' season ends on Sept. 2, and they are on the brink of being eliminated from playoff contention.)
"I don't know if there's an ideal [number of games]," Black said, discussing the length of Blanks' rehab. "But we want to make sure that he feels good, first of all -- that the heel, the Achilles all feel great."
Blanks, who was placed on the disabled list July 12, has been working with hitting coaches Phil Plantier and Alonzo Powell, even while injured. In fact, the injury has offered Blanks a chance to tinker with his swing midseason.
"He's been working with Phil and Zo, technically, in his stance, his setup and his swing," Black said. "That will help him."
AJ Cassavell is a reporter for MLB.com. Follow him on Twitter @ajcassavell. This story was not subject to the approval of Major League Baseball or its clubs.