Burnett in control behind surging Bucs offense
Burnett in control behind surging Bucs offense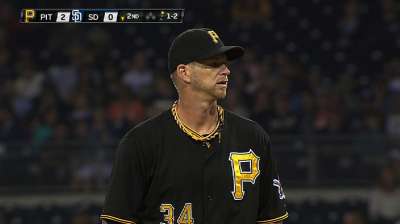 SAN DIEGO -- If the Pirates didn't recognize this A.J. Burnett, the feeling was mutual. Burnett protected an early lead. Then the Pirates piled onto it.
That's something neither had done for a spell, and the combination of two bad habits broken produced an 8-1 win over the Padres in Petco Park.
What West Coast quicksand? A second consecutive win over the Padres gave the Pirates seven straight on the shores of the Pacific, starting with a June sweep through Anaheim and Seattle.
The Bucs went back-to-back here with aces Francisco Liriano and Burnett mixing a 7-and-7 cocktail: Each went seven strong innings to make life easier for the bullpen.
"When they are on their games," said Clint Hurdle, the manager who has the luxury of those two veterans atop his rotation, "they can be a force. And they can beat good teams. They understand the importance of taking that ball and getting deep."
"It's been good to give those guys down there [in the bullpen] a rest," Burnett said. "We all feed off each other. I want to go out and keep it rolling, and pass on to Gerrit tomorrow."
Gerrit Cole will pitch for the Bucs in a bid for their first Petco Park sweep since early 2003 in Wednesday's late afternoon series finale.
Burnett went seven to earn his second career victory in eight starts over the Padres. Yes, his only prior victory was that no-hitter that still somewhat embarrasses him, because it came with nine walks and a hit batter.
"Was that the only time I beat them?" replied Burnett, who seemed honestly unaware. "Well, there you go ... walk nine, and you'll beat them all the time."
That May 12, 2001 no-hitter was a long time ago. It was in San Diego. But not in Petco Park; then the Padres were still housed in Qualcomm Stadium.
Tuesday's methodical victory yielded a two-game division lead over the Cardinals, with the third-place Reds slipping 3 1/2 games behind the Bucs following their milestone win.
For the Pirates, now 74-51, every win returns some sort of milestone. In the 20 years since the Pirates last finished with a winning record, the 74 wins have been exceeded only five times. Obviously, every victory now is another step up the ladder of respectability.
Burnett treasured three early runs off Tyson Ross through six innings. He then watched -- actually, participated in, by drawing a walk -- as the Bucs busted the game open with five runs in the seventh on Andrew McCutchen's two-run triple and another triple with the bases loaded by pinch-hitter Josh Harrison.
Harrison showed up swinging, against reliever Colt Hynes, and kept swinging until he slugged his second 0-2 pitch up the right-center alley.
"I knew we had the bases loaded and a chance to blow the game open," Harrison said, "so I went up there ready to swing."
Burnett stuck around to handle the bottom of that seventh, then retired having allowed four hits with one walk and seven strikeouts.
"He's a veteran pitcher with an assortment of breaking balls," San Diego manager Bud Black said. "The fastball was better than expected, for me, from what I've seen from him in the past."
"He was able to reboot," said Hurdle, alluding to his right-handed ace's two recent bumps. "He used all his pitches. First-pitch strikes got him in a good place. The swing-and-miss breaking ball was there, and he even gave them a few looks at the change. A very good outing for him."
The first hit off Burnett, with two outs in the third, came on a grounder to straightaway short by Will Venable. Except, with the Pirates' infield shifted to the right for the left-handed hitter, Jordy Mercer had to range far to his right for the grounder and had no throw.
The second hit allowed by Burnett was louder and longer -- Jedd Gyorko's leadoff homer in the fourth, cutting the lead to 3-1. That is the only homer allowed by Burnett in his last 56 1/3 innings.
In his two previous starts, Burnett could not hold leads of 3-1 in Colorado and 4-0 in St. Louis. If acutely aware of that recent defect and the need to change it, he received an immediate challenge by being given a 2-0 lead before he made his first pitch.
With one out in the first, Neil Walker ripped a 3-1 pitch to nearly dead-center for his eighth homer. With two outs, Pedro Alvarez reached on second baseman Gyorko's throwing error -- from shallow right, as middleman in the Padres' exaggerated shift -- and Russell Martin's double delivered him.
The lead went to 3-0 in the third when Walker was clipped on the right leg by a pitch, and an out later scored on a triple to left-center by Alvarez, who thus continued his transformation.
Alvarez had been known for blasting balls a long way, not for burning up basepaths. But counting his Monday night tour around the bases on right fielder Chris Denorfia's error and his first-inning sprint, the three-bagger got his meter up to 900 feet.
When McCutchen and Harrison joined the triple act, it marked the Pirates' third three-triple game of the season.
Even after Burnett found his shutdown innings, he was still coping with the Bucs' shutdown offense, as they again shut it down for a spell after the early noise. This time, the lull was only temporary -- unlike the Pirates' stay atop the division. Tuesday marked Day No. 39.
Tom Singer is a reporter for MLB.com and writes an MLBlog Change for a Nickel. He can also be found on Twitter @Tom_Singer. This story was not subject to the approval of Major League Baseball or its clubs.