Cabrera unable to summon magic vs. Twins
Cabrera unable to summon magic vs. Twins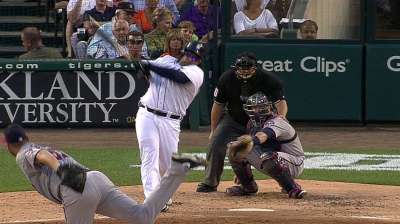 DETROIT -- The first eight innings looked like a scene out of April. The ninth inning looked like it has so often the last few weeks. The ending looked foreign.
In the end, the Tigers ended up with the matchup they wanted in their final at-bat on Tuesday night, Miguel Cabrera at the plate as the potential tying run. They just didn't get the result.
"You don't do it every single time. I mean, it just doesn't work that way," manager Jim Leyland said after Minnesota closer Glen Perkins struck out Cabrera to finish off a 6-3 Tigers loss to the Twins.
Cabrera had three ninth-inning home runs in an eight-day stretch. Perkins denied him another. As great as Cabrera has been lately, his manager felt like he had to remind people that his Triple Crown winner doesn't always hit game-tying homers.
At this point, Leyland is just hoping to have Cabrera back on Wednesday for the next opportunity. Cabrera grimaced swinging at the first pitch of the at-bat, creating a scene that flashed back to a week and a half ago at Yankee Stadium against Mariano Rivera. Cabrera didn't need a trainer, but he wasn't feeling right.
"That first swing, it looked like he reacted with some pain," Leyland said. "You could see it in his facial expression. I don't know what the situation is. I'll have to go check it. I could tell when he came up the steps he was hurting a little bit."
Technically, it took a leadoff single from Brayan Pena and a two-out walk from Perkins to Torii Hunter to set up Cabrera. Realistically, that setting was several innings in the making.
Justin Morneau reprised his Tiger killer role from five years ago with a four-hit, four-RBI game. He had struggled against Rick Porcello for his career, but he golfed a fourth-inning changeup into the right-field seats for a two-run homer in a three-run rally before doubling in two more runs off Phil Coke in the fifth.
Morneau once tormented the Tigers, hitting 10 home runs with 40 RBIs against Detroit from 2007-09, but he had struggled mightily against the American League Central champions since last year. His four hits were his most against Detroit since '09, his four RBIs matching his best games against them from '08.
"In our division, you get to see those guys so much, I think it's an advantage for the hitters," Morneau said. "We've seen guys like Porcello and Coke, who have been around. It doesn't necessarily mean you're going to have success, but you at least have an idea of what a guy has."
Porcello (9-7) gave up five runs on seven hits over 4 1/3 innings for his first loss since June 30. He failed to finish the fifth inning against a team other than the Angels for the first time all year. Coke's struggles against another left-handed hitter led to his option to Triple-A Toledo, where he'll finish out August before being recalled once rosters expand in September.
Pedro Florimon added an insurance run with a solo homer off Jeremy Bonderman in the sixth for a 6-1 lead. By the eighth inning, that extra tally loomed large.
Detroit had the potential tying run at the plate and setup man Jared Burton reeling in the eighth, but former Tiger Clete Thomas' snow-cone catch in shallow center field robbed Andy Dirks of a potential two-run single and gave Burton a chance to kill the rally by fanning Omar Infante.
On came Perkins for the ninth, and back came the Tigers, knowing two baserunners would allow Cabrera to step in. It took a miscue from Perkins, but they got it.
The way Cabrera has been hitting lately, Twins manager Ron Gardenhire wouldn't have been blamed for walking him to load the bases and take his chances with the lefty-lefty matchup of Perkins and Prince Fielder, whose 20th home run of the year opened Detroit's scoring in the fourth.
Gardenhire thought otherwise.
"We hated the thought of Miggy coming up there," he said, "but I didn't like the thought of Prince coming up there as the [winning] run. It still took two swings to beat us -- even with Miggy up there -- but if you put Fielder up there, he can do it with one swing. And believe me, he can do it. We saw it earlier in the game."
Cabrera fouled off three consecutive 1-2 pitches to stay alive -- a fastball inside, a fastball high and a slider down and in. What was left of the crowd of 37,964 was anticipating something.
Finally, Perkins challenged him upstairs with a 96-mph fastball. Cabrera's foul tip landed in catcher Ryan Doumit's glove to end the game.
"This game is really hard. He makes it look really easy, but it's not easy at all," Fielder said of Cabrera. "Sometimes you get it, sometimes you don't, but he just gets it more than most so it just looks like he's supposed to get it every time."
Jason Beck is a reporter for MLB.com. Read Beck's Blog and follow him on Twitter @beckjason. This story was not subject to the approval of Major League Baseball or its clubs.