Westbrook wants to attack early against Brewers
Westbrook wants to attack early against Brewers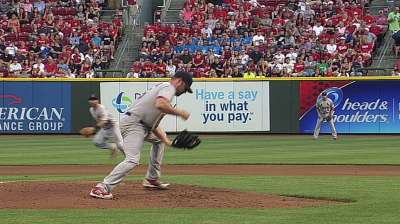 MILWAUKEE -- Cardinals manager Mike Matheny said Tuesday that his confidence has not wavered with Wednesday starter Jake Westbrook, but his concern is high with his right-handed pitcher.
"No, but obviously everybody has concern when we see that he's going through things that feel right, he's going about his business the right way, and he continues to struggle," Matheny said. "We're not so optimistic that we're oblivious."
Westbrook has endured a tough August, posting an 0-3 record and 11.02 ERA in three starts. In his last four starts -- all losses -- Westbrook's ERA has ballooned from 2.95 to 4.35.
Westbrook noted that controlling his sinker is key, and his 18th start of the season in Wednesday's finale against Milwaukee will be about getting back to the basics.
"It's all about being consistent and throwing strikes," he said. "It's one of those things that I have to put myself in a better position to succeed. I put myself in a bad situation by not attacking guys. I was trying to attack guys, but I was so erratic with it and not controlling counts. That's what I have to get back to is controlling counts and getting back in the zone."
Westbrook has walked 15 batters in his past four starts after allowing five free passes in two separate games -- the most since he walked six in his first start of the season.
But Matheny said it's not all about control.
"It's just quality pitches right from the get-go," Matheny said. "The guy is such a pro, and he's going through a thousand different things in his mind of what he can do differently. He's constantly looking to make those adjustments. The things that we know he takes a lot of pride in -- those quick innings and … pitching to contact and not walking guys -- all those things are what Jake Westbrook epitomizes more than anybody else on our staff.
"He really does something that he's had to do on a consistent basis to have the kind of career that he's had. It's just, he's struggling getting it done right now."
Matheny put some of the blame on himself, but said Wednesday's start against the Brewers could be a turning point for Westbrook.
"Possibly me giving him extra rest backfired," Matheny said. "Now we've got him on regular rest. You know, that sinker is such a feel, and we need him to get out there with a good feel for it right from the beginning. I anticipate we're going to have a much different Jake Westbrook than the last couple times he's gone out."
Kevin Massoth is an associate reporter for MLB.com. This story was not subject to the approval of Major League Baseball or its clubs.