Franklin keys Mariners' comeback in Oakland
Franklin keys Mariners' comeback in Oakland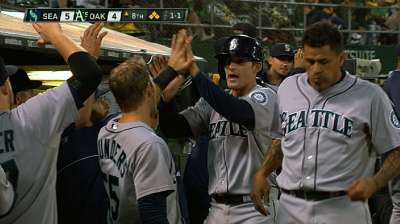 OAKLAND -- The Mariners told him to come out of the game, but Nick Franklin just wanted a fresh pair of pants.
The rookie second baseman had just driven in the tying run and scored the fourth run of the Mariners' five-run eighth inning in Tuesday night's 7-4 win against the A's by sliding through the block of catcher Derek Norris which resulted in the removal of both players from the game.
Franklin required five stitches to a laceration in his left knee -- left bare after Norris' spike cut a hole in his trousers -- that prematurely ended a night that saw him go 2-for-4 with a home run and three RBIs.
"I went to the dugout and I think they said I was in shock, but I was ready to go," Franklin said. "I think I just told them to get another pair of pants."
He was instead replaced by Humberto Quintero, but not before the Mariners capped off a gift-wrapped five-run eighth inning that improved their record to 4-50 when trailing after the seventh inning.
Seven Mariners reached base before an out was recorded in the eighth. A's reliever Sean Doolittle allowed a leadoff single to Michael Saunders before Henry Blanco's tailing fly ball to left field went in and out of Yoenis Cespedes' glove for a double.
The Mariners capitalized with back-to-back RBI singles by Brad Miller and Franklin that tied the game, 4-4.
Ryan Cook replaced Doolittle and promptly walked Kyle Seager to load the bases. A wild pitch to Kendrys Morales scored Miller before Morales' fielder's choice ground ball to second base gave Franklin an opportunity to slide through Norris for the go-ahead run.
Another wild pitch by Cook scored Seager, and Seattle headed to the ninth with a 7-4 lead they would not relinquish.
"They definitely have a great bullpen," Franklin said. "More than anything, though, we were just locked in and trying to make them make pitches. We were trying to execute as best as we could, and that's what happened."
"That was the snowball effect for sure," said A's third baseman Josh Donaldson, who went 2-for-5 with a home run in the first inning. "One thing happened, and it just kept getting bigger and bigger until they put up enough runs to have a pretty comfortable lead there."
The comeback nullified Oakland's four-run first inning against Mariners left-hander Joe Saunders who allowed five of his 10 total hits over 40 pitches -- the most thrown by a Mariner in an inning this season. Two of the hits were home runs, by Donaldson and Nate Freiman, and another was a triple by Jed Lowrie to lead off the game.
"There are a lot of things that go through your mind at that point," Saunders said. "You're making good pitches, they're putting balls in play and just finding holes. You're telling yourself, you know, you only made one bad pitch, and that was to Freiman. Donaldson, I made a good pitch and he put a good swing on it so you just tip your cap, try to minimize damage and keep us there for a while."
To Saunders' credit, he followed the rough opening frame with five scoreless innings.
"It looked like he was just missing," Mariners acting manager Robby Thompson said. "It kind of snowballed from there a little bit. But he settled down. ... He settled down and got some double play balls, some big double-play balls. So he fielded his position very well. He helped keep himself in the game."
Franklin cranked a two-run home run over the right-field wall in the third inning to give Seattle its only runs off Oakland rookie Sonny Gray. The right-hander was the second A's starter to stifle the Mariners in as many days, as Gray followed Jarrod Parker's complete game with seven strikeouts, two walks and just two hits allowed in seven innings.
"When you can cut the lead in half like that, especially early in the game like that, it gives you new life in the dugout," Thompson said. "You feel like you've got a chance. Along with that, Joe Saunders was going out there and shutting them down, putting some zeros up."
Franklin's contributions were encouraging for a rookie who has seen a dip in production after a stellar first half of the season.
The home run was his first since hitting a pair on July 28 vs. Minnesota; he was 7-for-63 in the 15 games prior to Tuesday night's game.
"The think about Nick is, if you keep that changeup up, he's going to hurt you on it," Thompson said. "He's been a little overly aggressive with the changeups and breaking balls that are down and out of the zone. He's making the adjustments. It may take a little while, but another good night from him tonight."
Jeff Kirshman is an associate reporter for MLB.com. This story was not subject to the approval of Major League Baseball or its clubs.