A's bullpen falls apart after Gray stymies Mariners
A's bullpen falls apart after Gray stymies Mariners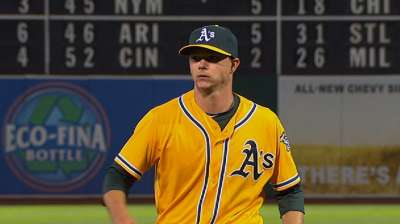 OAKLAND -- Just as rare as the blue moon that dominated a clear sky on Tuesday night was a colossal collapse by a typically trustworthy pair in Sean Doolittle and Ryan Cook that unfolded below it.
The last blue moon we'll see until 2015 is up in the sky until Wednesday morning. The muddle of an eighth inning turned in by Oakland's relievers will linger in memory a bit longer.
"We don't see that often," said manager Bob Melvin. "I think that was surprising to everybody."
Seattle scored five times in the fateful frame -- four off Doolittle -- to wipe away a two-run A's lead and any chance of a win for an impressive Sonny Gray in a disheartening 7-4 Oakland loss at the Coliseum, leaving the A's 1 1/2 games back of the Rangers in the American League West.
Call it messy, or simply downright ugly. No matter, the eighth inning was the worst of the season for Oakland, which lost for just the third time in 58 games when leading after seven innings.
"Oh, no doubt," said Josh Donaldson. "Kind of a weird inning the way it unfolded. There was the snowball effect for sure. One thing happened, and it just kept getting bigger and bigger until they put up enough runs to have a pretty comfortable lead there."
By the end of it, catcher Derek Norris had exited with what was later deemed a fractured left big toe, an injury that could put him on the disabled list next to fellow backstop John Jaso, who may very well miss the remainder of the regular season because of lingering concussion symptoms. That would leave Stephen Vogt as the only active catcher not only on the A's 25-man roster but the 40-man.
But the A's won't make a decision on Norris until Wednesday at the earliest. Until then, there's plenty to mull over.
Just ask Doolittle.
Oakland's lefty allowed hits to all four batters he faced, though the second to Henry Blanco, a double off the glove of a running Yoenis Cespedes in left field, was something of a gift, as Cespedes could've easily been dinged with an error.
Regardless, it was followed by Brad Miller's RBI base hit, and another one from Nick Franklin to tie the game, leading to Doolittle's departure in favor of the right-handed Cook.
"Obviously the deception's not there," said Doolittle, charged with a career-high-tying four runs, giving him six total in his last four games. "I was leaving stuff over the middle of the plate. If I do my job, Ryan doesn't even have to come into the game in the first place. On some level, that's on me for him having to get ready really quick and come into the game with guys on base and no outs."
Cook didn't fare any better, quickly walking Kyle Seager before uncorking a wild pitch that led to the go-ahead run.
The A's nearly prevented another run from scoring when Kendrys Morales followed with a short grounder to second base, where Alberto Callaspo threw home, but not in time for catcher Derek Norris to tag Franklin. Both catcher and runner were hurt on the play, forcing Vogt to enter the game in place of Norris.
Cook then walked Raul Ibanez to put runners on first and second, the first out of the inning finally coming shortly after on Justin Smoak's strikeout. But then Cook gift-wrapped another wild pitch, and yet another run scored, paving the way for Jesse Chavez's entrance.
Chavez secured the final two outs, but the damage was irreversible, as the A's never scored after the first inning, when they clobbered Joe Saunders for four runs.
"Your offense gives you four runs, and Sonny goes out and does his job, and we felt like that was a game we should've won," said Doolittle. "Just not the right night, not the right time of year to have an inning like that."
"We didn't plan it that way," said Cook.
The early parts of Tuesday's affair almost seemed perfectly planned. Leadoff man Jed Lowrie greeted Saunders with a triple, his first since Sept. 25, 2011, and scored on Norris' ensuing base hit. Then Norris scored on Donaldson's two-run shot to left field, his 18th homer of the season, and, one out later, Nate Freiman also took Saunders deep.
At the time, the support was ample for a dominant Gray, whose lone mistake was a two-run homer to Franklin in the third inning. He allowed just one other hit and fanned seven in seven innings.
"He pitched great again, it's good to see," Melvin said of Gray, who has begun his Major League career with just four runs allowed and 27 strikeouts in 25 inning . "He's got some presence out there, and certainly has the stuff."
"He gives us seven innings and a chance to win," said Doolittle. "All we gotta do is get six outs.
"Maybe we both got it out of our system on one night."
Jane Lee is a reporter for MLB.com. Read her blog, Major Lee-ague, and follow her on Twitter @JaneMLB. This story was not subject to the approval of Major League Baseball or its clubs.