Nix of time: Yanks sweep twin bill vs. Jays
Nix of time: Yanks sweep twin bill vs. Jays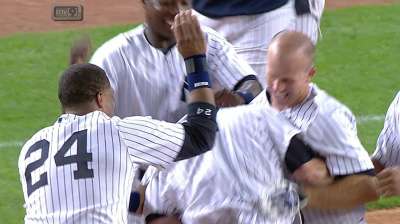 NEW YORK -- At this late stage of the schedule, the formula has become a simple one for the Yankees, deleting all guesswork from the equation. Each game remaining is one they feel that they must win, and on Tuesday, they were able to accomplish that twice.
Jayson Nix delivered a game-tying home run in the seventh inning and celebrated his first career walk-off hit in the ninth, helping the Yankees secure a doubleheader sweep of the Blue Jays with a 3-2 win on Tuesday at Yankee Stadium.
"It feels really good," said Nix, who was drenched in Gatorade by teammate Brett Gardner after the winning blow. "I feel like we've kind of had a little bit of a jolt with our team. We're playing really well right now. It's a good time for it; got to keep it going."
Facing reliever Darren Oliver, Mark Reynolds opened the home half of the ninth with a walk and quickly yielded to pinch-runner Ichiro Suzuki, who moved up on a sacrifice. Given a green light by manager Joe Girardi, Ichiro stole third base before trotting home on Nix's line-drive single to left.
"I went in as a pinch-runner, and I thought, 'I need to do something today,'" said Ichiro, who stroked two hits in the first game to run his career total to a combined 3,999 between Japan and the Majors. "This is my chance to do something. I had a good opportunity to do that."
Nix's seventh-inning solo blast had tied the game and spoiled a strong outing by left-hander Mark Buehrle, who proved to be a tough customer opposite Yankees starter Phil Hughes, holding New York to just Robinson Cano's RBI single through the first six innings.
Mariano Rivera worked in both ends of the twin bill, pitching a scoreless ninth in the evening game to pick up the win. The victory was the Yankees' eighth in 10 games and came after New York had defeated Toronto, 8-4, in the afternoon contest.
Cano had four hits -- including his 200th career homer -- in that game, while light-hitting catcher Chris Stewart also launched a three-run blast to support Ivan Nova's 6 1/3 innings of four-run ball.
"It's a good day," Girardi said. "You win the first one with some three-run homers, then we win today with the big homer from Nixy to tie it up and then the game-winning hit. You get a good performance from Hughsie and a good performance from Nova, you get Mo in two games; it's a good day."
Taking the ball in the nightcap, Hughes turned in his best outing of late. Having lost 10 of his last 12 decisions coming in, Hughes kept his fastball and slider down more, limiting the Blue Jays to two runs and seven hits -- none via homers -- over six-plus innings.
"I thought it was OK," Hughes said. "Extremely better than I have been. I feel like I'm making progress in the right direction. It all starts with my fastball. I was able to get ahead a lot, throw a lot of strikes and force guys to swing the bats. It worked out all right."
Toronto scored almost immediately as Rajai Davis opened the game with a single, stole second, moved up on a groundout and then raced home on a wild pitch.
Hughes settled in and the Yankees reclaimed a tie as Cano singled home a run off Buehrle in the third inning, finishing the twin bill with six hits and five RBIs. Toronto pushed back when Munenori Kawasaki tripled in the fifth and scored on a sacrifice fly.
Departing on the wrong side, Hughes was saved from a loss thanks to Nix's third homer of the year, which cleared the left-field wall off Buehrle, who took a no-decision but has lost eight straight decisions to the Yankees and is 1-10 all time against the Bombers.
"One too many bad pitches, I guess," Buehrle said. "I threw some good pitches the whole game and a couple of mistakes I had, they didn't make me pay for it -- except for that one."
Austin Romine also had three hits for the Yankees, who logged their sixth walk-off win of the season.
"When you come in here, it's loose, it's fun," Romine said. "We're not out of it until we're out of it, and that's every game. We're scrapping. We're getting big hits from guys when we need it."
With the Yankees believing they'll need at least 90 wins to reach the postseason, Nix said that he was excited to play the hero for a night, but credited bigger hitters like Alfonso Soriano and Alex Rodriguez for the spark lighting the Yanks' run.
"We're in the playoffs now," Nix said. "We need to win all these games and come to the field every day to win the game. I think we're kind of creeping [in the standings] a little bit, but we've got a long way to go, we've got a lot of games. I think each game is very important and we know that."
Bryan Hoch is a reporter for MLB.com. Follow him on Twitter @bryanhoch and read his MLBlog, Bombers Beat. This story was not subject to the approval of Major League Baseball or its clubs.